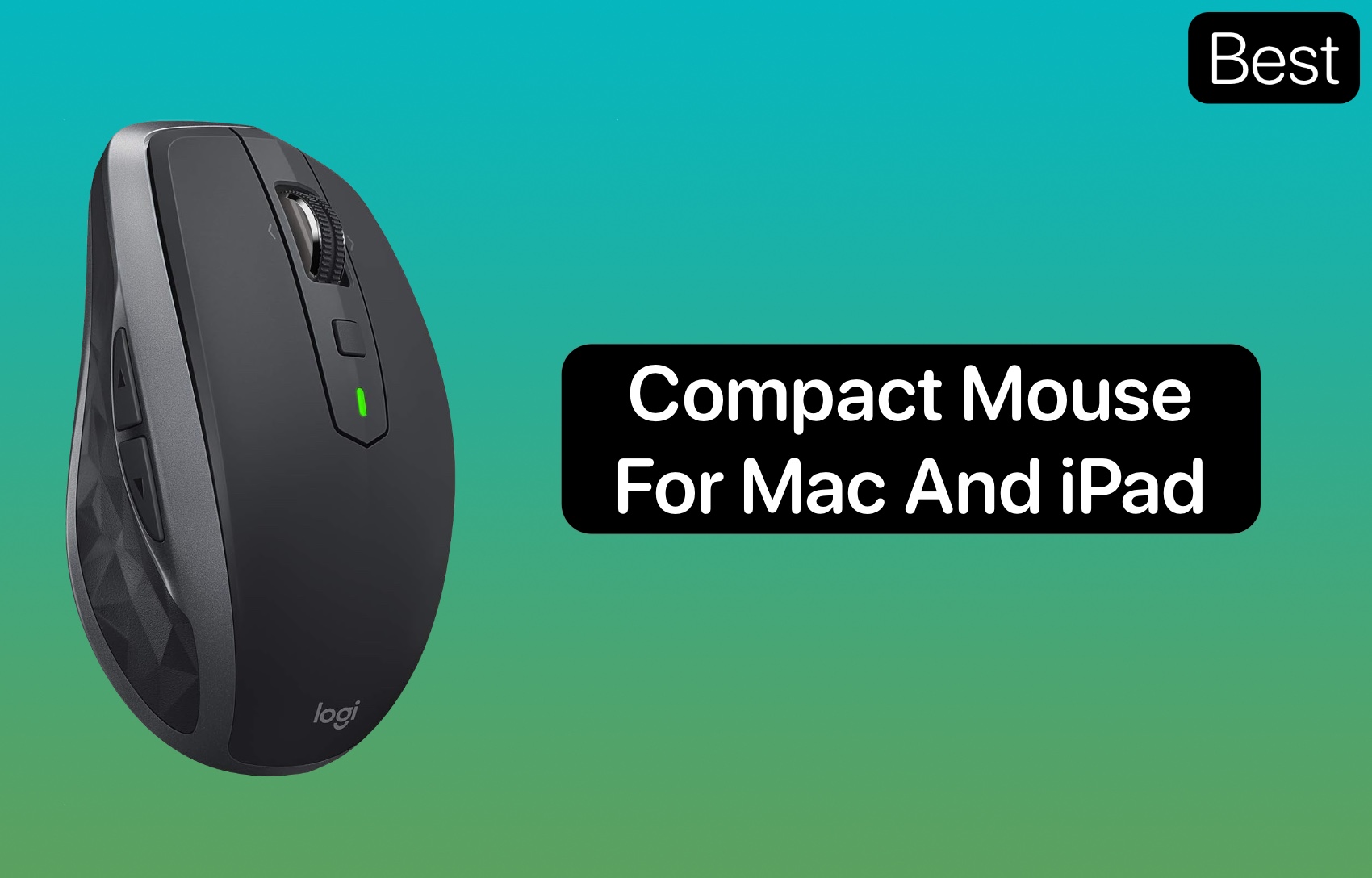 Best Compact Mouse For Mac And iPad In 2023
In this article, we'll explore the top options available in 2023 for the best compact mouse that seamlessly integrates with your Mac and iPad. These portable peripherals offer ease of use, ergonomic design, and reliable performance, making them ideal companions for on-the-go computing. 
Whether you're a student, professional, or simply enjoy the versatility of Apple devices, read on to discover the best compact wireless mouse that fits your Mac and iPad like a glove.
Best Compact Mouse For 2023
Utilizing a mouse offers numerous advantages, such as enhanced comfort, heightened precision, and an overall improvement in your daily workflow. To assist you in selecting the best compact mouse for Mac, we have curated a comprehensive collection that caters to various needs. Whether you seek to boost your productivity, engage in multiplayer gaming, or simply desire a comfortable browsing experience, our selection has something to suit everyone's preferences.
1. Logitech M170 Wireless Mouse for Mac
Logitech M170 Wireless Mouse for Mac and iPad – the perfect companion for your computing needs. With its user-friendly design and reliable performance, this mouse is ready to enhance your productivity.
Experience instant connectivity by simply plugging the receiver into a USB port on your device. Within seconds, you'll be up and running, ready to conquer your tasks. Say goodbye to tangled cords and enjoy the freedom of wireless technology.
Designed conveniently, the M170 is compact and fits comfortably in your hand. Its smooth cursor control ensures precise navigation, making it ideal for tight workspaces and busy desks. Whether you're a lefty or a righty, the ambidextrous design ensures a natural and comfortable grip.
Buy Logitech M170 Wireless Mouse for PC for $9.99 here.
2. Logitech POP Mouse
Designed for convenience, this best small Bluetooth mouse is compact and comfortable. It easily fits snugly in your palm, handbag, or computer case. With an impressive battery life of up to 24 months, you can rely on the POP Mouse for long-lasting performance. What's more, it incorporates SilentTouch Technology, ensuring whisper-quiet operation while you work.
The POP Mouse offers versatility in connectivity. Bluetooth technology allows you to connect it to up to three devices running on Windows, Mac, Chrome OS, or Android. Navigating between screens is a breeze thanks to the Easy-Switch button or FLOW functionality.
Buy Logitech POP Mouse for $28.90 here.
3. Logitech Wireless Mini Mouse M187 Ultra-Portable
This mini travel mouse for MacBook boasts an incredibly compact and pocket-ready design. Simply plug in the Nano receiver, and you're ready to experience the convenience and precision of your new Logitech mouse.
The mouse's small size allows it to conveniently remain in your USB port when not in use, eliminating any concerns about misplacing it. Additionally, if you need to remove it, rest assured that it can be safely stored within the mouse, ensuring you never lose track of it.
Enjoy the freedom of a wireless connection with the reliability and control typically associated with a wired mouse. Say goodbye to the limitations of your laptop's touchpad and embrace the enhanced precision and control provided by the Logitech Wireless Mini Mouse M187.
Buy Logitech Wireless Mini Mouse M187 Ultra-Portable for $12.80 here.
4. Logitech MX Anywhere 2S Wireless Mobile Mouse
Equipped with Darkfield High Precision tracking technology, this remarkable mouse delivers flawless control on almost any surface, including glass, with a minimum thickness of just 4mm. With an impressive sensitivity of up to 4,000 DPI, you'll experience unparalleled precision and accuracy in cursor movements.
Say goodbye to charging woes with the MX Anywhere 2S. Simply plugging it into your computer using the micro-USB charging cable gives you a full day's worth of power in a mere three minutes. A single full charge can last an incredible 70 days, ensuring uninterrupted usage for extended periods.
Navigating through long documents or web pages is a breeze with the smooth-scrolling feature of this mouse. Alternatively, activate the click-to-click mode by pressing the wheel and shifting for precise and controlled navigation.
Buy Logitech MX Anywhere 2S Wireless Mobile Mouse for $54.49 here.
5. INPHIC Wireless Mouse for Mac
Featuring a built-in high-quality rechargeable 700mAh battery, this mouse delivers impressive longevity, providing up to 500 hours of usage on a single full charge. To conserve power, the mouse intelligently enters sleep mode after 3 minutes of inactivity and seamlessly reactivates with a gentle movement.
With 2.4G wireless technology, you can enjoy a stable connection and precise tracking with an impressive working distance of up to 10 meters. It's a hassle-free experience with plug-and-play functionality. The mouse also offers three DPI switches (1000, 1200, 1600) for effortless adjustment of cursor speed.
Designed with a mute feature and advanced sensor, this mouse ensures noiseless clicks, making it an ideal companion for public spaces such as libraries, homes, offices, and any other environment where you prefer not to disturb others.   
Buy INPHIC Wireless Mouse for Laptop for $10.99 here.
6. TECKNET Bluetooth Mouse
The TECKNET Bluetooth wireless mouse lets you choose between Bluetooth 5.0/3.0 and 2.4GHz modes. This allows you to switch between different modes according to your preference. The Bluetooth connection mode eliminates the need for a USB port, saving you valuable resources. On the other hand, the 2.4GHz wireless technology ensures a strong and reliable connection of up to 50ft.
With a built-in rechargeable battery, a quick 2.5-hour charge gives you 12 weeks of daily use. The mouse also features convenient functions such as auto sleep, quick wake-up, and long standby mode. 
Designed for silent operation, the mouse reduces button noise by 90%. This makes it ideal for use in public or office environments where noise is a concern. The mouse offers multiple DPI options (4000/2400/1200/600DPI) to suit various applications, ensuring smooth and precise tracking on any surface.
Buy TECKNET Bluetooth Mouse for $17.99 here.
7. Vssoplor Wireless Mouse
Enhance your computing experience with the Vssoplor Wireless Mouse. Designed with an intelligent sleep mode, this Mac small mouse efficiently conserves battery life. After 5 minutes of inactivity, it automatically enters sleep mode, saving power. Simply click the mouse to wake it up and resume work effortlessly.
This mouse is equipped with 2.4 GHz wireless technology and offers superior anti-interference capabilities, enabling a faster transmission speed and a more reliable connection. With a working range of up to 10 meters, you can enjoy your device's flexibility and freedom. Additionally, the high DPI ensures smooth tracking across various surfaces, further enhancing precision and control.
The Vssoplor Wireless Mouse is highly compatible and supports multiple operating systems, including Windows 7, 8, 10, XP, Vista, and Mac OS X 10.4. Whether you have a desktop, laptop, PC, Macbook, or any other device, this mouse seamlessly integrates with your setup.
Buy Vssoplor Wireless Mouse for $10.97 here.
8. Logitech Wireless Mouse M185 (Budget Option)
Experience the convenience of the M185 mouse, which is ready for action whenever you are. With a simple plug-and-play setup, all you need to do is connect the receiver to a USB port on your device, and you'll be up and running in a matter of seconds. Its compact size and precise cursor control make it an excellent choice for tight workspaces and busy desks.
Furthermore, the M185 is designed with your comfort in mind, featuring a contoured shape that perfectly follows the natural curve of your hand. This ergonomic design allows you to stay productive for longer periods without discomfort. The wireless capability of the iPad small mouse adds to its convenience, allowing you to easily carry it with your laptop in a bag, so you can take it anywhere you work. Additionally, the M185 is thoughtfully crafted to provide equal comfort to left- and right-handed users.
One of the standout features of the M185 is its smooth line-by-line scrolling, which offers a seamless navigation experience. 
Buy Logitech Wireless Mouse M185 for $11.99 here.
To Conclude…
Finding the best compact mouse for iPad and Mac in 2023 can greatly enhance your productivity and ease of use. After thorough research and consideration, we have highlighted the top options, each offering unique features and benefits. 
Whether you prioritize portability, ergonomic design, or advanced connectivity, a compact mouse on our list will meet your needs. With these mice's convenience and precision, navigating your Mac or iPad will become a seamless and enjoyable experience. Invest in the best compact mouse that suits your requirements and elevates your productivity in the digital realm.
Was this article helpful? Let us know in the comments section.