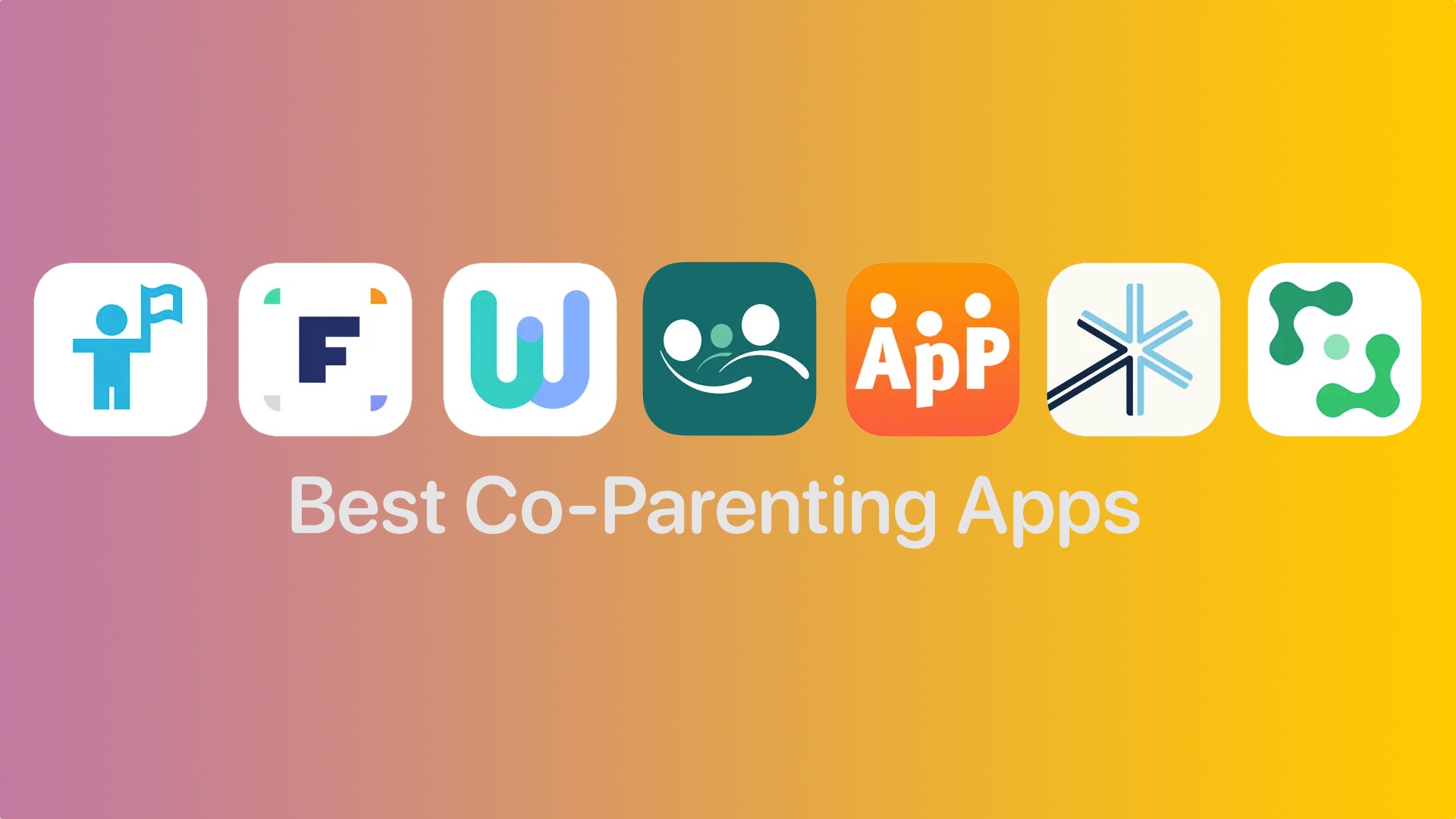 Best Co-Parenting Apps For iPhone Users
In the chaotic and ever-evolving world of modern parenting, where schedules resemble intricate jigsaw puzzles and communication is often a game of telephone tag, navigating the co-parenting landscape can feel like attempting a high-wire act without a safety net.
Fear not, iPhone-toting co-parents, for the digital realm has bestowed upon us a lifeline in the form of co-parenting apps. These virtual companions promise to transform the intricate dance of shared responsibilities into a seamless waltz, right at your fingertips. Picture this: a world where coordinating soccer practice, doctor's appointments, and school pickups becomes as effortless as sending a text.
In this article, we embark on a quest to uncover the best co-parenting apps designed specifically for iPhone users.
Best Co-Parenting Apps for 2024
Buckle up, fellow co-pilots in the parenting journey, as we explore the technological wonders that promise to turn the often tumultuous seas of co-parenting into a smoother, more navigable voyage.
1. AppClose 
AppClose is the ultimate co-parenting app designed to simplify your life. Imagine having a tool that not only streamlines your communication with your co-parent but also takes care of scheduling, expenses, and crucial child-related information. With AppClose, it's not just about managing your calendar; it's about fostering seamless collaboration.
One standout feature is the ability to send and receive text messages that are tamper-proof – no more worrying about altered or deleted messages. Engage in group chats with multiple people in your circle, and yes, video and phone calls are just a tap away, making communication a breeze.
AppClose goes above and beyond by allowing you to share vital child-related details like allergies, medications, and school information with your co-parent or even involve third parties like grandparents, attorneys, or mental health professionals.
For those times when your co-parent isn't on board, AppClose Solo steps in. Whether you're a single parent or just want to share information with non-AppClose users, this feature ensures you stay connected. Customizing parenting schedules is a cinch, and you can effortlessly track parenting time percentages with the built-in statistics tracker.
Install AppClose from the App Store now!
2. OurFamilyWizard Co-Parent App
Welcome to OurFamilyWizard, where co-parenting becomes a breeze! Navigating the waters of co-parenting can be challenging, but this app is here to make it smoother for you and your kids. Imagine having everything you need in one secure app, so you can focus on what truly matters.
When distance separates you and your child, stay connected through audio or video calls. It's perfect for virtual visitation, midweek catch-ups, or managing long-distance co-parenting. And the best part? All the details are automatically documented, keeping your co-parenting communication in one organized place.
Forget the hassle of juggling messages and attachments across various platforms OurFamilyWizard consolidates all your communications in one secure space. No more arguments about who said what and when – the First-viewed timestamps settle it all. Plus, the ToneMeter™ ensures that your messages stay calm and conflict-free.
Install OurFamilyWizard Co-Parent App from the App Store now!
3. TalkingParents: Co-Parent App
TalkingParents is an all-in-one solution, offering secure messaging, recorded phone and video calls, a shared calendar, and a seamless payment system in a single app. No need to juggle multiple platforms; the app has everything you need under one virtual roof.
With the secure messaging feature, co-parents can send timestamped messages, providing a clear timeline for communication. Worried about privacy during calls? Fear not! The accountable calling feature allows recorded video or phone calls without revealing personal phone numbers.
Managing custody schedules is a breeze with shared calendars, helping co-parents coordinate appointments and stay in sync to avoid conflicts. And when it comes to expenses, TalkingParents simplifies it all. Keep track of shared parenting expenses, make payment requests, and securely send or receive money hassle-free.
Install TalkingParents: Co-Parent App from the App Store now!
4. 2houses | Easier Co-Parenting
Whether you have one child or more, 2houses is designed to foster communication and organization for the well-being of your children, all while removing the emotional stress from family dynamics.
Financial management becomes a walk in the park with 2houses. The app simplifies the process, allowing you to view reports by specific categories or periods. For separated parents, shared expenses are effortlessly managed, and the continuous display of balances ensures equitable and healthy accounts.
The information bank in 2houses is a game-changer, offering a centralized hub for important details like contact information for coaches or doctors, clothing sizes, Social Security numbers, and school documents.
The journal feature acts as your family's quick social network, enabling you to share information, news, photos, videos, and even your children's funny quotes in a straightforward manner, keeping the family connected no matter where you are.
Install 2houses | Easier Co-Parenting from the App Store now!
5. WeParent – Co-Parenting App
Meet WeParent, your all-in-one co-parenting companion designed to make managing family life a breeze. Say goodbye to confusion with the intuitive custody schedules, shared calendars, and event organization features—all neatly wrapped up in a certified record that stands up in court or for tax purposes.
Planning the school year, holidays, or vacations? The has got you covered with pre-loaded templates or the flexibility to craft your own schedule. Track changes effortlessly, ensuring everyone is on the same page about the kids' whereabouts. From school events to doctor appointments, WeParent helps you coordinate it all. Plus, with collaborative lists for to-dos, shopping, chores, and more, your family can pitch in and see real-time updates as tasks get checked off.
Exchange private or group messages with co-parents and family members, all neatly archived for easy retrieval. Need to share important info like shoe sizes or school records? The secure integration with your phone's camera and contacts book ensures quick and confidential sharing, creating a searchable archive for future reference.
Install WeParent – Co-Parenting App from the App Store now!
6. coParenter – coParenting App
Navigating co-parenting just got a whole lot easier with the coParenter app – your virtual ally in the journey of shared parenting. Designed to streamline communication and organization with your co-parent, this app is your secret weapon for smooth sailing co-parenting without the courtroom drama.
Crafting parenting plans has never been simpler – just answer a few questions and watch as the app creates a customized plan tailored to your unique situation. The shared calendars are color-coded for clarity, ensuring everyone is on the same page with responsibilities and schedules, even for those spontaneous same-day visits.
What sets coParenter apart is its focus on day-to-day decisions. From haircuts to diet, and even media choices, you can easily agree on these co-parenting details within the app.
Install coParenter – coParenting App from the App Store now!
7. Fayr – Co-Parenting Simplified
Ever wished for incontestable proof of your location during drop-offs and pick-ups? Fayr's got you covered with GPS-verified, time-stamped location pinpoints, making conflicts vanish into thin air. And hey, no more wondering about parenting time down to the minute – it's all there in black and white on your detailed parenting calendar.
Fayr ensures all your co-parent convos happen within the app, making it a breeze to export full reports of your message history. Increase accountability, and improve civility – it's like your co-parenting relationship just got an upgrade.
Fayr's categorized expense tracker lets you track every penny, upload receipts with photo verification, and categorize expenses from medical bills to school supplies. And yes, it even tracks expenses per child, because fairness matters.
Install Fayr – Co-Parenting Simplified from the App Store now!
To Conclude
In the world of modern co-parenting, where seamless communication is the key to success, these apps for co-parents emerge as the unsung heroes, weaving a digital tapestry of cooperation and understanding. Navigating the delicate balance of shared responsibilities becomes an art, and these apps are the brushes that paint a collaborative masterpiece. As parents, we often find ourselves in the dance of life, juggling schedules, emotions, and endless to-do lists. The beauty of these free co-parenting apps lies in their ability to transform this dance into a harmonious symphony, where every note is played in sync.
So, as you embark on this digital journey of co-parenting, let your iPhones be your allies, and may the pixels on your screens reflect the shared laughter, love, and resilience that define your unique family story. After all, in the world of co-parenting, the best app is the one that brings hearts closer and makes the journey worthwhile.
Disclosure: iOSHacker may receive a commission if you purchase products through our affiliate links. For more visit our privacy policy page.