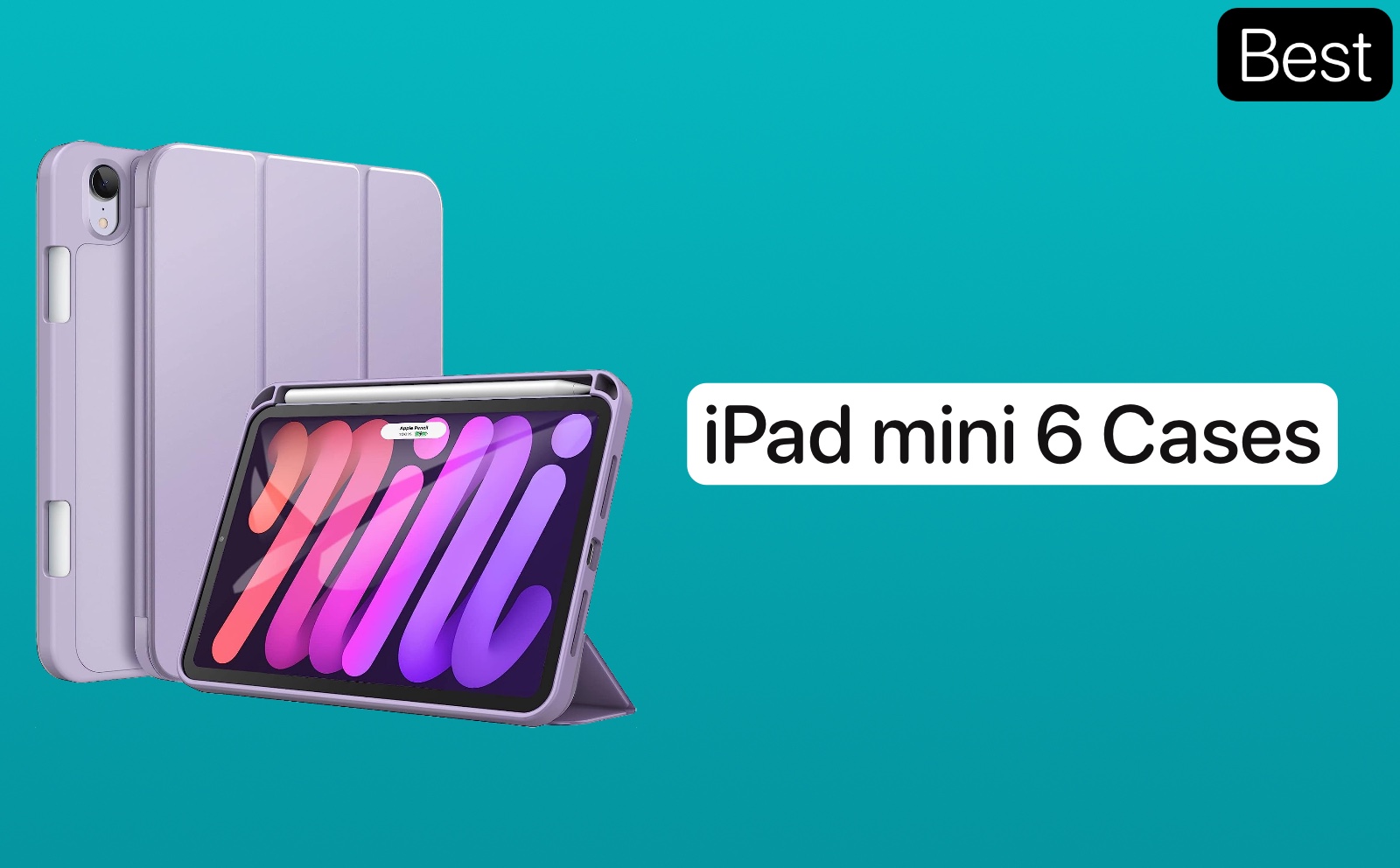 Best Cases For iPad mini 6 In 2023 (Budget)
In this article, we discuss the best cases for iPad mini in 2023 that will not only safeguard your cherished gadget but also leave your wallet smiling.
You've got a pint-sized powerhouse in your hands, capable of all kinds of magic. But let's be honest, with all those fancy features, it's essential to keep your iPad Mini safe from life's little accidents, right?
We all know that one accidental slip from your hand or a gravity-defying acrobatics act by your cat can turn your iPad into a mini-disaster zone. Cracks, scratches, bumps, and the works are nightmares you want to stay away from. 
But fret not, my friend, that's where the magical armor of the case for iPad mini 6 comes to the rescue.
Affordable Armor: Top iPad Mini Budget Cases of 2023
These iPad mini budget cases are like trusty knights, sworn to protect your precious device from all the perils of daily life. 
Whether it's a wild journey in your backpack, a bumpy ride in your car, or a clumsy moment of pure comedy gold, your case will always shield your beloved gadget.
So buckle up and get ready to explore a world of the best cases for iPad mini in 2023 that won't break the bank.
1. ProCase iPad Mini 6 Case
The ProCase iPad mini 6 case boasts an ultra-slim and lightweight hard back design so your iPad won't feel like it's hit the gym with bulky armor on. 
But don't let its dainty looks deceive you. It's ready to handle accidental drops and bumps like a pro, making it one of the best cases for iPad mini in 2023.
The ProCase knows you love your iPad's sleek Apple icon, so it's got a translucent frosted back cover. It also offers dual standing positions for your viewing and typing needs while protecting your device from pesky fingerprints and scratches. 
It supports the 2nd Gen Apple Pencil's magnetic attachment and wireless charging. Plus, its auto Sleep/Wake feature lets your iPad catch some Zs when you're not using it. 
Buy the ProCase case for iPad Mini 6 from Amazon for $12.99.
2. JETech iPad Mini 6 Case
Next up is the JETech case for iPad mini 6 – a classic blend of protection and functionality. This beauty boasts shock-absorption technology and a grippy exterior, ensuring your iPad doesn't slip away from you.  
It's the soft TPU back is the secret weapon, which is like super-flexible armor, safeguarding your iPad against scratches and bumps. Plus, installing and removing it is a breeze. 
And you know what's even cooler? The PU front and back cover surfaces are so silky-smooth, it's like your iPad's getting a spa day.
We've got a built-in Pencil holder, magnetic charging, and automatic sleep/wake function as well. Plus, this iPad mini 6 case also allows you to adjust the angles to suit your optimal viewing and typing needs. 
Buy the JETech case for iPad Mini 6 from Amazon for $13.99.
3. Fintie Hybrid Slim iPad Mini 6 Case 
With its transparent back, the Finite iPad mini 6 case lets you flaunt that sleek design while keeping your device safe from scratches and bumps. 
Crafted with care, this case boasts a hardshell back cover combined with a flexible TPU bumper, forming a protective fortress against shocks, drops, and impacts. Plus, the soft microfiber interior on the front of the case prevents those pesky scratches from ruining your tablet's display. keeping it pristine.
One of the best iPad mini budget cases, this one comes with built-in magnets that automatically wake or put your device to sleep when you open or close the lid. Oh and, this case also has an in-built pencil holder plus magnetic pencil charging.
Buy the Fintie Hybrid Slim case for iPad Mini 6 from Amazon for $12.99. 
4. DTTO iPad Mini 6 Case 
Crafted with precision and practicality in mind, this premium synthetic leather iPad mini 6 case is here to rock your iPad's world.
This case sports a tri-fold front cover, easily transforming into a stand for hands-free Netflix binging or video calls with pals. And like all other cases on the list, this iPad mini 6 case with pencil holder also supports wireless charging. 
But, the DTTO case is all about non-slip grip and drop protection, ensuring your mini genius stays intact even during your wildest adventures. 
As for additional cool features, the honeycomb cushion design releases a whopping 80% more heat than other cases, making sure your iPad stays cool and its lifespan extended. Furthermore, its got pockets to hold items, multiple horizontal bracket angles, and a magnetic smart cover as well.
Buy the DTTO case for iPad Mini 6 from Amazon for $15.98.
5. FANRTE iPad Mini 6 Case
Crafted with excellent workmanship, this iPad mini 6 case boasts a premium synthetic leather exterior that not only looks sleek but also provides a secure grip. 
The anti-slip interior lining and hardback cover ensure your iPad Mini 6 stays snug and safe, preventing any slips, slides, or oopsies. Plus, with its auto wake/sleep function, you'll save more power for all your mini-adventures.
A multi-talented genius, this case for iPad mini 6 offers multiple horizontal stand angles for your viewing pleasure. Whether you're binge-watching your favorite shows or tapping away at your next masterpiece, the FANRTE case has your back, literally.
Moreover, the FANRTE case comes with an interior hand strap, perfect for comfortable one-handed use. Plus, the elastic closure design adds an extra layer of safeguard against any unexpected surprises.
Buy the FANRTE case for iPad Mini 6 from Amazon for  $11.99.
6. TiMOVO iPad Mini 6 Case
TiMOVO iPad mini 6 case brings us a case that's the epitome of practicality. With its built-in pencil holder, you'll never have to worry about misplacing your precious Apple Pencil again. 
This iPad mini budget case comes with a front PU leather and a back hard PC cover, offering a formidable defense against scratches, shocks, drops, and impacts. 
Next, this case is designed to be slim and lightweight, so you won't feel like you're carrying around a bulky fortress. It's the perfect companion for your iPad Mini 6, allowing you to take it anywhere and everywhere with ease.
Plus, the frosted translucent back cover lets you admire that Apple icon and show off your favorite color.
Buy the TiMOVO case for iPad Mini 6 from Amazon for $10.95.
7. Soke iPad Mini 6 Case
Last but not least, the Soke iPad mini 6 case is a rugged warrior designed to withstand the rigors of everyday adventures. Whether you're hiking, camping, or just navigating the urban jungle, Soke is the best case for iPad Mini in 2023.
Let's start with the Unique Brushed Texture. This case has a classy brushed texture on both the front and back covers, ensuring your iPad Mini 6 looks stylishly sophisticated in every setting. 
Now, let's get to the heart of the matter – Full Protection. We know you love your iPad, and the last thing you want is pesky fingerprints, shocks, scratches, or dust ruining its beauty. 
Fear not, because the hard PC back shell is like a fortress, protecting your precious gadget from everyday hazards. Plus, with the soft microfiber lining and PU leather exterior, your tablet will feel cozy and secure in its own little castle.
Buy the Soke case for iPad Mini 6 from Amazon for $9.99.
Smart Savings, Smart Shield
It's never about how much you spend, but rather how much you save without sacrificing the protection and style your iPad Mini 6 deserves. 
With these affordable iPad mini 6 cases in hand, you can rest easy, knowing your mini companion is ready to tackle whatever life throws its way. Don't let your precious iPad go naked in a world full of scratches, bumps, and accidental spills. 
Wrap it up in one of these affordable cases for iPad mini 6 and enjoy peace of mind while you explore the wonders of technology.