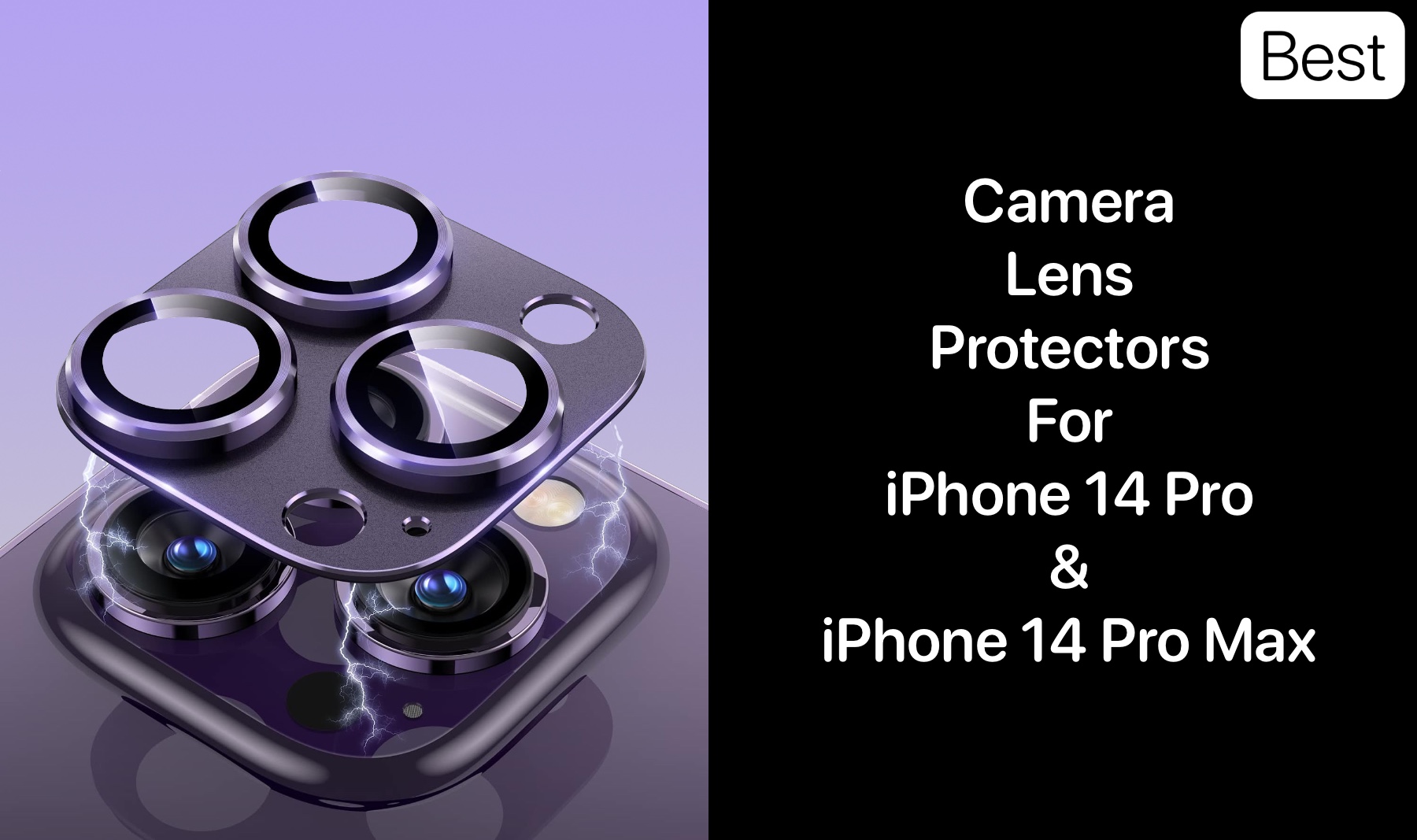 Best Camera Lens Protectors For iPhone 14 Pro And iPhone 14 Pro Max
Looking for a product that could protect your iPhone 14 Pro or iPhone 14 Pro Max's camera lens? Then these camera lens protectors are for you.
If you are anything like us, you treat your phone's camera like royalty. It is not just a camera; it's an art-making, memory-capturing marvel! But let's face it, life can be a bit rough and tumble, and our beloved lenses deserve some extra TLC. 
That's where we swoop in with our cape of knowledge to reveal the best camera lens protectors for iPhone 14 Pro and iPhone 14 Pro Max, aka your prized gadget. Say goodbye to accidental scratches, smudges, and unfortunate encounters with keys in your pocket.
With these trusty lens guardians, your iPhone's camera will be armored up and ready to face the world, so you can continue snapping epic shots without a care in the world. 
Let's get lens-protecting!
Top Lens Protectors for iPhone 14 Pro And iPhone 14 Pro Max
Whether you're a professional photographer or a casual enthusiast, join us as we uncover the lens protectors for iPhone 14 Pro that promise to keep your photographic journey safe and uninterrupted.
1. Jeluse 3X2 Pack Camera Lens Protector
Safeguard your valuable devices with this advanced technology, featuring an aviation aluminum metal ring and a 9H tempered glass camera protector, providing unparalleled resistance against impacts and drops from external forces. The seal ring ensures comprehensive protection against water, oil, and dust, keeping your device pristine.
Experience hassle-free installation with the included alignment kit and two demolition sticks, allowing you to effortlessly switch between different lens covers to suit your style anytime.
Jeluse's innovative night shooting technology guarantees exceptional results. The independent lens cover design significantly enhances light transmission, preventing fogging and flash overexposure while preserving your photos and videos in their original, unadulterated quality.
Buy Jeluse 3X2 Pack Camera Lens Protector for $12.99 here.
2. Meikobuly Camera Lens Protector
Crafted with precision, the outer frame of this camera lens protector boasts a sleek aluminum alloy design, providing a seamless and stylish fit for your iPhone. The camera protector screen has been reinforced with electroplated sapphire super hard AF film, offering exceptional wear resistance and durability to withstand daily wear and tear.
With a Nano-level process and 99.99% high transmittance sapphire glass, this lens protector ensures crystal-clear image quality and eliminates the annoying glare that can affect your pictures. Even when using the flash with the rear camera, you can capture flawless shots without compromising picture quality.
Perfectly sized to match the original lens of the iPhone 14 Pro and 14 Pro Max, the Meikobuly Camera Lens Protector provides full coverage and ultimate protection. Its upgraded nano waterproof adhesive layer ensures a secure and reliable adhesion, keeping the lens protector in place.
Buy Meikobuly Camera Lens Protector for $11.19 here.
3. Ailun 3-Pack Camera Lens Protector
One of the standout features of this lens protector is its seamless integration of augmented reality technology, enhancing your photography experience. You'll enjoy improved light transmittance and night shooting capabilities without the need for designing a flash hole position. When using the flash at night, your photos and videos will maintain their original quality.
Crafted with precision and care, the lens protector is made from exquisitely polished 0.1mm ultra-thin tempered glass, providing a seamless fit that complements the sleek design of your iPhone 14 Pro/14 Pro Max. 
Furthermore, the lens protector boasts a remarkable 99.99% high-definition clear hydrophobic and oleophobic screen coating, effectively guarding against sweat and oil residue from fingerprints. This ensures your lens stays pristine and smudge-free, enabling you to capture clear and stunning images.
Buy Ailun 3 Pack Camera Lens Protector for $7.98 here.
4. Uyiton Camera Lens Protector
This third-generation integrated lens protector boasts 10 times stronger suction, ensuring a secure fit that won't easily come off. With an impressive 99% preservation of the original color, you can trust that your iPhone 14 Pro Max / iPhone 14 Pro's image quality remains uncompromised.
Crafted from high-transmittance sapphire material enhanced with AR anti-reflection technology, the glare problem commonly encountered in photos is now a thing of the past. Your precious memories will be captured with clarity and precision.
Combining sapphire and aluminum alloy materials, our lens protector protects your camera lens from scratches, collisions, and dust, guaranteeing a bright, clean lens.
Buy Uyiton Camera Lens Protector for $15.99 here.
5. YWXTW Camera Lens Protector
Its innovative "Night Circle" technology sets this protector apart, which seamlessly integrates augmented reality, resulting in enhanced light transmission. Even when capturing photos at night with the flash activated, the lens protector ensures impeccable image clarity, preserving the camera's original picture quality.
The application process is seamless thanks to Nano-electrostatic automatic adsorption technology. Simply remove the back camera film, align the protector with the lens, and gently press to enjoy a firm, bubble-free attachment. Rest assured that the protector won't easily fall off, and when you decide to remove it, there will be no residue left behind.
Precision-cut using advanced laser technology, this lens protector aligns perfectly with the iPhone 14 Pro, fitting snugly into almost any compatible phone case. Additionally, it features a range of colors and captivating 3D textures, including delicate spiral patterns that create mesmerizing reflections. Whether you prefer a color that matches your phone or a unique hue, the options allow you to express your individuality and mood freely.
Buy YWXTW Camera Lens Protector for $9.99 here.
6. Xfilm Camera Lens Protector
Thanks to its full camera cover design, the Xfilm Camera Lens Cover seamlessly integrates into your setup, allowing you to use it with edge-to-edge designed cases without compromising functionality or aesthetics.
Experience photography like never before with our cutting-edge AR Anti-Reflection Technology. Through augmented reality "seamless" fusion technology, we have significantly improved light transmission, thereby preserving the original quality of your precious photos and videos.
Say goodbye to dark and blurry nighttime shots. Our camera lens protector features the innovative "night circle," eliminating the need for a flash hole. Now you can capture stunningly clear images even in low-light conditions, mimicking the original camera's performance effortlessly.
Buy Xfilm Camera Lens Protector for $5.99 here.
To Conclude…
The iPhone 14 Pro Max is a powerful and sophisticated device that deserves the best protection for its camera lenses, and the market offers a range of excellent options. From the durable tempered glass to the advanced multi-layered coatings, the iPhone 14 Pro Max lens protectors ensure crystal-clear image quality while safeguarding the lenses from scratches, dust, and potential damage. 
Finding the ideal lens protector ultimately depends on individual preferences. Still, any of the top-rated options mentioned in this article are sure to provide optimal protection and peace of mind for photography enthusiasts and casual users alike.