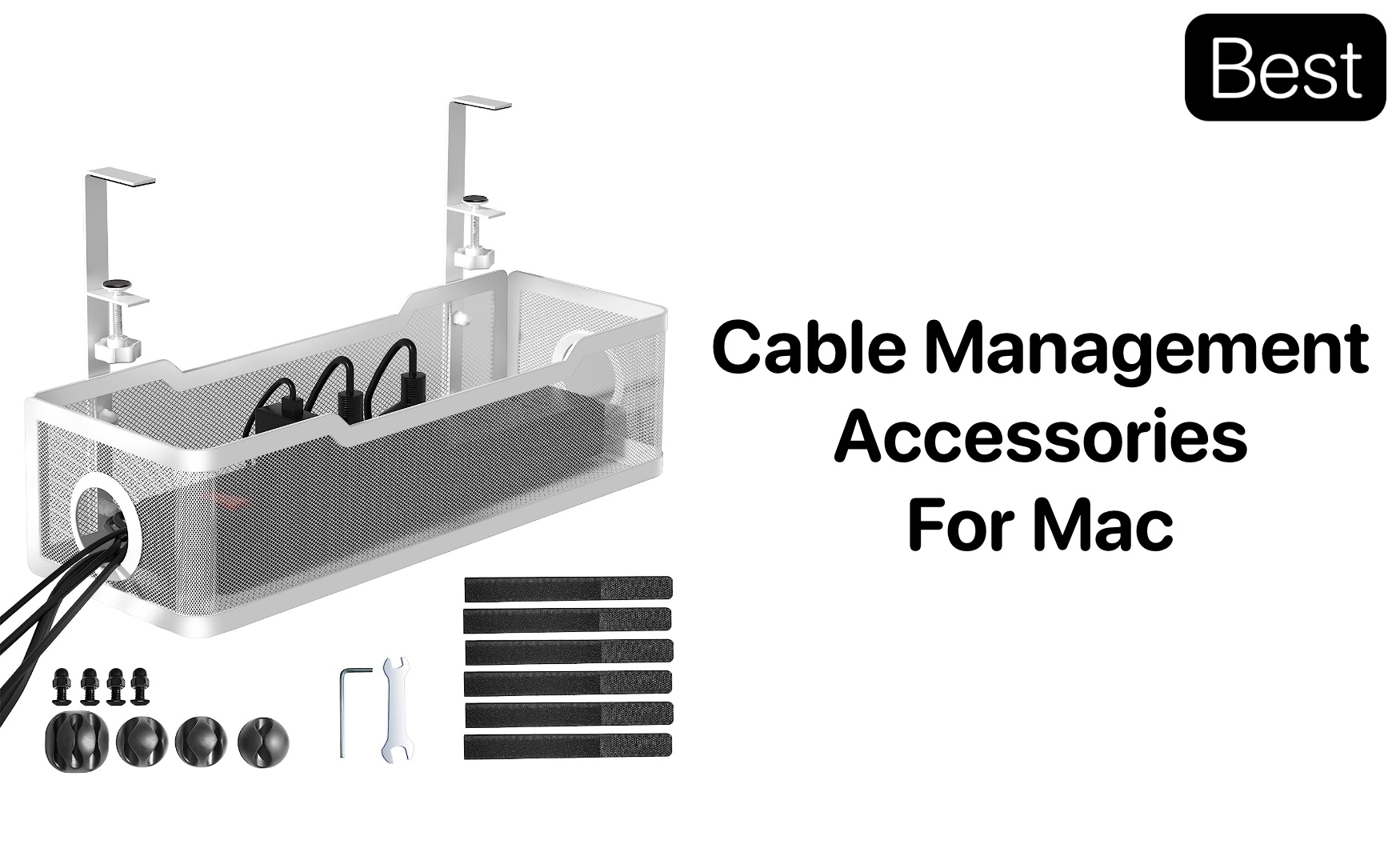 Best Cable Management Accessories For Your Mac Setup
In this roundup, we have featured some of the best cable management accessories for Mac that you can buy in 2023. These cable management accessories allow you to keep your desk space clutter free while making it beautiful and minimal.
A cluttered workspace not only hampers productivity but also diminishes the aesthetic appeal of your workspace. With the ever-growing array of peripherals and gadgets accompanying our Macs, managing the tangled mess of cables has become an unavoidable challenge. 
Fret not, as we have scoured the market to compile a curated list of the best cable management accessories for Mac to tame the cable chaos, elevate your organization game, and transform your Mac setup into a sleek and efficient workstation. 
Best Cable Management For Desk In 2023
Whether you are a creative professional, a tech-savvy enthusiast, or simply someone who appreciates a tidy desk, these accessories streamline your workflow and bring a sense of order to your computing environment. 
Let us dive in and discover the perfect companions to keep your cables under control while unleashing the full potential of your Mac setup.
1. REFLYING Under Desk Cable Management
This innovative under-desk cable management wire management tray is screw-free, making it perfect for use on various surfaces such as wood, glass, metal, and marble tables. The best part? It leaves no marks or damage behind when dismantled.
Designed with your desk's protection in mind, the tray features soft rubber pads on adjustable and removable clamps, guarding against scratches. Say goodbye to dust accumulation and overheating issues with a thoughtfully engineered design. The flexible cable adjustment ensures a neat and organized workspace, while the extra-large capacity accommodates all your cables and power strips.
Crafted from high-quality powder-coated carbon steel, this wire hider guarantees long-lasting performance and stability. Its hollow curved design holds power strips with ease and facilitates seamless cable organization.
Buy REFLYINGUnder Desk Cable Management for $19.99 here.
2. TidyHelper Upgraded Wall Wire Clips for Cable Management
These adhesive wire clips are crafted from eco-friendly premium PA66 material and offer unmatched sturdiness and durability. The super sticky back pad ensures a hassle-free application, allowing you to easily peel off the backing and affix the clips firmly to any flat, dry surface. No screws or tools are needed! 
These versatile cable management clips accommodate wire diameters up to 0.26 inches, making them ideal for various applications. These clips are the perfect solution for tidying up your home or office, from network cables and TV-coax cables to USB cords, cell phone chargers, Ethernet cables, and electric wires. 
But that's not all – the adhesive cord clips serve a dual purpose. When it's time to decorate for Halloween, Thanksgiving, or Christmas, they make light work of installing lights and decorations. Plus, these reliable clips adhere effortlessly to various surfaces like tables, metal, glass, and wood.
Buy TidyHelper Upgraded Wall Wire Clips for Cable Management for $7.85 here.
3. Cinati Cable Management Under Desk
Unlike traditional screw installations, the Cinati under-desk cable management tray can be effortlessly attached to desk frames and easily repositioned according to your preferences.
The innovative design allows for seamless installation on any desk surface made of wood, glass, or any other material. With the inclusion of anti-scratch mats, you can rest assured that your desktop remains unharmed, setting this wire organizer apart from others in the market.
The versatility of this desk wire organizer lets you mount the opening either inward or outward, based on your requirements, providing the utmost convenience while collecting and organizing wires.
Crafted from sturdy metal and fully welded with a powder-coated finish, this cable tray resists rust and dust accumulation, ensuring a long-lasting and clean appearance. Capable of holding up to 10 lbs and measuring 13.4L x 4.6W x 3.1H, it proves to be an ideal cord organizer for desks with a thickness ranging from 0.4″ to 2.4″.
Buy Cinati Cable Management Under Desk for $21.99 here.
4. Alex Tech 10ft – 1/2 inch Cord Protector
As a leading expert in this field, Alex Tech is dedicated to delivering top-quality wire management products to its valued customers. This cable management is designed to wrap, protect, and organize wires, effectively hiding and concealing them in various applications, such as automotive, electronics, home, and office environments.
Experience the benefits of this premium cable management for USB cables, ensuring your cords are always neatly arranged. Say goodbye to clutter and chaos; this product guarantees a clean and tidy appearance for your home and office spaces.
Moreover, split sleeving boasts high-temperature resistance, making it suitable for even the most demanding applications.
Buy Alex Tech 10ft – 1/2 inch Cord Protector for $8.99 here.
5. EVEO Cable Management
EVEO's desk cable management system offers an effortless and efficient solution for taming unruly cables. This unique structure design perfectly fits your requirements, making your workspace look sleek and well-organized. 
The EVEO J Channel Cable Raceway is not just another cable management solution; it's an essential addition to every home or office. Providing a neat and straightforward way to hide and organize those pesky wires, this cable organizer can securely hold up to 10 power cords or 16 Cat-5 ethernet cables. It's the perfect solution to conceal HDMI cables, phone wires, power extension cords, fax lines, and more.
What sets this cable management tool apart is its one-piece non-locking J design, engineered for ultimate convenience. Moving your electronics or appliances is now a breeze, thanks to this cord organizer's easy access to wires. 
Buy EVEO Cable Management for $18.97 here.
Crafted with durable steel, this below-table cable organizer ensures strength and long-lasting resistance to environmental factors and cleaning products. Experience the benefits of a well-organized office, as our cutting-edge cable management solution keeps your technology neatly arranged for years to come.
Choose your preferred mounting method, as this cable holder is designed to be easily attached using screws or stickers. Bid farewell to complex installations and reach for your screwdriver – it's all you'll need. 
An organized office leads to a focused mind, and a wire tray basket equipped with a power strip holder keeps all your computer cables in one place, ensuring a tidy appearance and a streamlined environment.
Buy Scandinavian Hub Under Desk Cable Management Tray for $39.97 here.
7. OHill 16 Pack Black Adhesive Cord Holders
These cord holders are practical for your nightstand and work wonders in keeping your computer cords neatly bundled and untangled, whether at home or in the office. 
The versatility of these holders knows no bounds! They can serve as table cable organizers, pen holders, toothbrushes, or flosser holders – you name it! Their flexibility and easy installation make them a convenient addition wherever you need them.
Rest assured; these cord holders are crafted from extra strong sticky pads, providing a secure hold on multiple surfaces. With a simple peel-and-stick process, you can effortlessly attach these adhesive cable clips wherever you desire, ensuring a hassle-free experience.
Buy OHill 16 Pack Black Adhesive Cord Holders for $7.99 here.
To Conclude…
With the Best Cable Management Accessories, you can transform your workspace into a clean, tidy, and visually appealing environment. From cable clips and organizers to cable sleeves and cord covers, the market offers diverse solutions to suit your needs and preferences. 
By investing in these best cable management accessories, you can bid farewell to tangled cords and unsightly mess.
So, take charge of your cable chaos today and witness the transformative power of these essential accessories for a harmonious and optimized Mac experience.