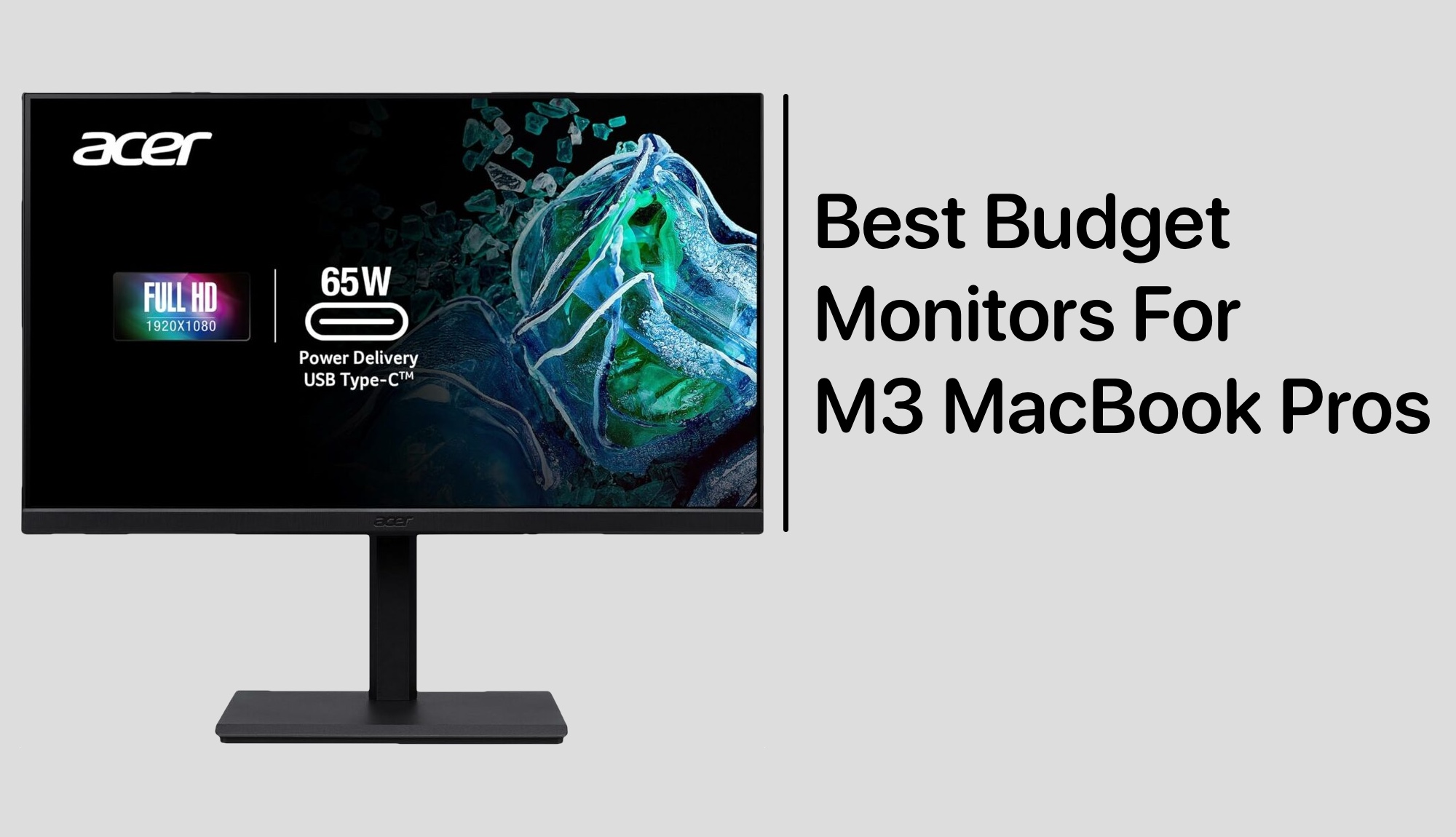 Best Budget Monitors For M3 MacBook Pros
In this buying guide, we have featured some of the best budget monitors for M3 MacBook Pros that won't break the bank. All of these monitors support USB-C output, which means you can conveniently connect them to your MacBook Pro without any adapters.
In the dynamic world of technology, finding the perfect monitor for your M3 MacBook Pro can be like embarking on a quest for the holy grail. We've all been there—drowning in a sea of options, wondering which one will seamlessly complement our sleek MacBook companion without burning a hole in our wallets.
Fear not, fellow tech enthusiasts, for we've undertaken the noble task of sifting through the digital haystack to bring you the needles—the best budget monitors that'll make your M3 MacBook Pro sing in harmony.
Join us on this pixelated journey as we explore and uncover the gems that strike the perfect balance between performance and affordability, ensuring your MacBook experience is nothing short of extraordinary.
Best Budget Monitors for M3 MacBook Pros
As you embark on the quest for the ideal budget monitor, keep in mind the rhythm, the harmony, and the dance – because finding the perfect partner for your MacBook Pro is not just a purchase; it's a waltz into a world where performance meets affordability with a touch of style.
Let's dive in and discover the ideal USB-C monitors for MacBook Pro to take your MacBook Pro to the next level!
1. acer CB271 bmirux 27″ Full HD
Picture this sleek acer CB271 bmirux 27″ Full HD monitor as the maestro orchestrating your visual experience! With Full HD resolution, AMD FreeSync magic, and an impressive 75Hz refresh rate, every pixel dances to the rhythm of your content. Marvel at the 1ms VRB response time, ensuring your visuals are as sharp as a samurai's katana.
The zero-frame design creates an immersive canvas, and the IPS technology delivers colors so vibrant, that you'll feel like you're diving into a paint palette. With 99% sRGB color saturation and Delta E<1, it's a visual fiesta.
Adjusting to your comfort is a breeze – tilt it from -5 to 35 degrees, swivel it +/- 30 degrees, or pivot it +/- 90 degrees. The monitor is not just a visual spectacle; it's a flexible performer. And did I mention the built-in speakers? 2 watts each, ready to serenade your ears.
Buy acer CB271 bmirux 27″ Full HD for $159.99 here.
2. Dell S2722QC 27-inch 4K USB-C Monitor
Immerse yourself in a seamless visual experience with a sleek three-sided ultrathin bezel design – no more interruptions, just pure style. The impressive 4.0ms response time ensures crisp visuals for your business needs. Dell S2722QC 27-inch 4K USB-C Monitor goes beyond functionality; it's your ideal companion for work or movie marathons.
Take control of your viewing experience with a height-adjustable stand that allows you to find the perfect angle. Tilt, swivel, or pivot – it's all about making you look and feel your best during those long work sessions or entertainment sessions. 
This USB-C monitor M3 Pro MacBook Pro simplifies your setup with a single cable that handles power, video, audio, and data. Plus, charge and connect your laptop effortlessly. And let's not forget the built-in dual 3W speakers – this monitor has it all.
Buy Dell S2722QC 27-inch 4K USB-C Monitor for $279.99 here.
3. ASUS 23.8" 1080P Docking Monitor
Get ready to elevate your workspace with the ASUS 23.8" 1080P Docking Monitor! It's not just a monitor; it's your new command center. Connect effortlessly with HDMI, USB-C, DisplayPort, and more – talk about flexibility!
The USB-C port isn't just there to look good; it's your one-cable solution for laptop docking. Imagine seamlessly transmitting data, displaying videos, and charging your laptop with up to 65W – all through a single cable. Efficiency, anyone?
With a refresh rate of up to 75Hz and adaptive sync technology, this monitor takes care of those annoying traces, ensuring your viewing experience is as crisp as a freshly opened bag of chips.
Buy ASUS 23.8" 1080P Docking Monitor for $169 here.
4. SAMSUNG S80A Computer Monitor
The SAMSUNG S80A Computer Monitor is your gateway to a visual feast! Immerse yourself in Hi-Res 4K UHD and an IPS panel, unveiling every detail with four times the pixels of a regular Full HD monitor. It's like stepping into a world where every shade and hue comes alive.
Dive into a billion colors with HDR10, where darks get deeper, and brights shine brighter, bringing content to life just as its creator intended. Need more screen real estate? This monitor's got you covered, offering ample space for multiple tools, applications, and programs to coexist harmoniously.
Experience a monitor that's not just a visual treat but a sleek addition to your workspace. The slim and minimalistic design minimizes distractions, letting you focus on what matters. Need versatility? The Height Adjustable Stand (HAS) offers customization with height, tilt, swivel, and pivot options, while VESA mount compatibility lets you place your monitor anywhere.
Buy SAMSUNG S80A Computer Monitor for $271.99 here.
5. Lenovo L27m-30-2022
The Lenovo L27m-30-2022 delivers a vibrant 1920 x 1080p resolution with a buttery-smooth 75 Hz refresh rate, perfect for both remote work and casual gaming. No more screen tearing or stuttering, thanks to AMD FreeSync.
Connectivity is a breeze with HDMI 1.4 and a versatile USB Type-C port that handles data, power, audio, and video transfer—all while delivering up to 75W of power. Plus, four USB 3.2 ports cater to your various peripherals, from keyboards to webcams.
Style meets functionality with the ultra-thin monitor head and a sleek dual-tone metal stand, complete with a convenient phone holder. Keep your home office clutter-free, and thanks to the ergonomic stand, enjoy easy adjustments for tilt, lift, pivot, and swivel.
Buy Lenovo L27m-30-2022 for $194.99 here.
6. ASUS ProArt Display
Check out the ASUS ProArt Display PA247CV – it's got a 23.8-inch Full HD LED display that'll make your visuals pop! With a wide 178° viewing angle, it's like having a front-row seat to your content. Plus, it's all about those colors – hitting 100% sRGB and 100% Rec. 709 standards. And guess what? The colors are spot-on thanks to factory calibration and a Delta E < 2 color accuracy.
Connectivity? You're covered! DisplayPort over USB-C with a 65W Power Delivery, DisplayPort, HDMI, and a USB 3.1 hub. It's like the Swiss Army knife of monitors!
Buy ASUS ProArt Display for $179 here.
7. LG UltraWide FHD 29-Inch
Get ready to elevate your computing and gaming experience with the LG UltraWide FHD 29-Inch Computer Monitor! Immerse yourself in a cinematic 21:9 screen ratio boasting a vivid 2560×1080 resolution. Whether you're gaming or working, this IPS Display delivers true-to-life colors and sharp details at wide viewing angles.
For the gamers out there, this M3 Pro MacBook Pro Budget monitor is a powerhouse. Experience seamless motion with a 1-millisecond Motion Blur Reduction (MBR), ensuring you stay ahead in fast-paced games. AMD FreeSync technology manages refresh rates, banishing screen tearing and stuttering for a buttery-smooth gaming ride, especially if you're rocking an AMD Radeon series video card.
Activate Reader Mode for reduced blue light and Flicker Safe to eliminate onscreen flicker, keeping your eyes fresh. Plus, with Dynamic Action Sync and Black Stabilizer, you're equipped to swiftly respond to on-screen action and spot enemies lurking in the shadows.
Buy LG UltraWide FHD 29-Inch for $249.99 here.
8. ASUS 23.8" 1080P Monitor
Check out this ASUS 23.8″ beauty! Get lost in its 1080P Full HD display, offering vivid visuals from any angle thanks to its IPS 178° wide viewing panel. Smooth sailing with up to 75Hz refresh rate and Adaptive-Sync/FreeSync tech – no more annoying traces!
This monitor is VESA wall-mountable, giving your desk some breathing room. ASUS Eye Care Plus tech ensures a comfy viewing experience, combating flicker and blue light. Plus, it's got Color Augmentation for top-notch color and a Rest Reminder to save those precious peepers.
Connectivity? Oh, it's got you covered! USB-C with up to 65W Power Delivery and HDMI (v1.4) ports. This monitor is not just a screen; it's your visual haven!
Buy ASUS 23.8" 1080P Monitor for $139 here.
9. AOC Q32P2CA 32″ IPS Monitor
The AOC Q32P2CA is your gateway to a visual paradise! Immerse yourself in the vibrant world of 32 inches of pure IPS brilliance, delivering stunning QHD resolution and wide 178/178 viewing angles. This monitor for M3 Pro MacBook Pro is not just a window to your digital realm; it's a portal to clarity.
Say hello to the USB-C docking magic that tidies up your desktop chaos. One cable, multiple wonders – high-speed data, high-res video, and up to 65W of laptop-charging power, making your workspace sleek and efficient. Stream 4K videos while your notebook gets a power nap.
No more eye-rolling at choppy frame rates! The Adaptive-Sync technology ensures your on-screen action is as smooth as silk, eliminating stutters and delays. And speaking of colors, get ready for a visual feast with 1.07 billion+ hues in HDR mode. The 178/178 wide-angle view ensures that even if your friends are peeking from the sides, the colors stay true.
Tired of playing hide-and-seek with your cables? The built-in USB hub is your superhero, offering HDMI, DisplayPort, headphone out, USB-C, and more, all at your fingertips. And guess what? The KVM switch lets you switch between two computers seamlessly, making your multitasking dreams come true.
Buy AOC Q32P2CA 32″ IPS Monitor for $249.99 here.
To Conclude
As we wrap up our journey through the realm of MacBook Pro monitors for 2024, it's clear that finding the perfect companion for your sleek machine doesn't have to break the bank. Navigating the landscape of options, we've unveiled screens that not only dance harmoniously with your MacBook Pro but also shimmy their way into your heart without emptying your wallet.
Remember, it's not just about pixels and refresh rates; it's about the unique dance these monitors engage in with your M3 MacBook Pro, creating a visual symphony that enhances your computing experience.
Also check out these M3 MacBook Pro accessories:
Disclosure: iOSHacker may receive a commission if you purchase products through our affiliate links. For more visit our privacy policy page.