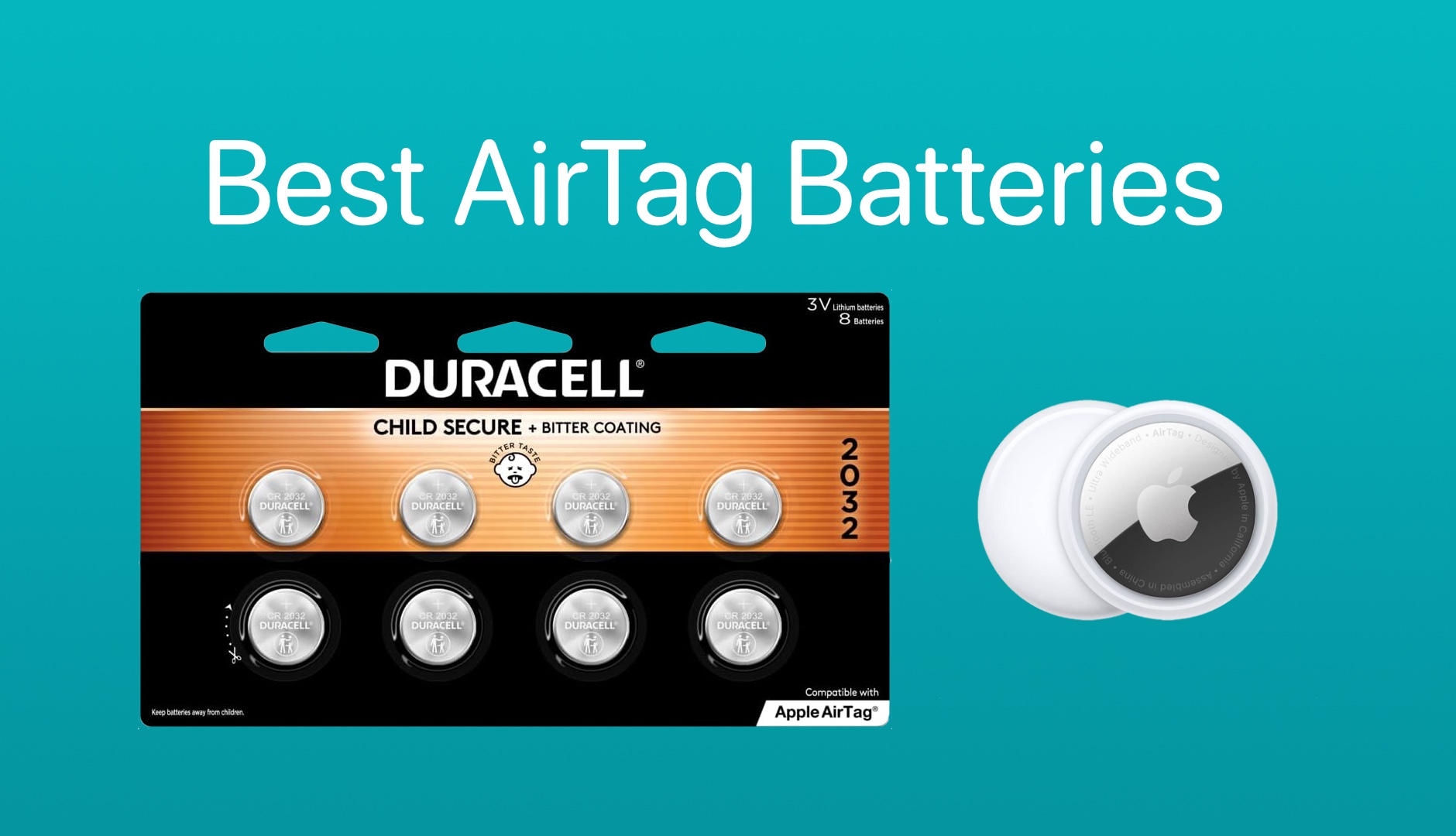 Best Batteries For Your AirTags – CR2032
If you've joined the AirTags bandwagon (or are considering taking that leap), you already know how these little marvels can make finding your misplaced items a breeze. But let's be real – the reliability of this magic is heavily dependent on the batteries that power your AirTags.
We've all been there, frantically searching for that set of keys or our prized backpack, only to realize the battery's given up on us at the most inconvenient moment.
You might even find yourself asking what kind of batteries does AirTags use?
Fret not, because we've delved into the world of batteries to uncover the best power sources that'll keep your AirTags up and running when you need them most. Say goodbye to those "Where did I put that thing?" moments and let's explore the batteries for AirTags!
Want to learn how to replace AirTag batteries? Then check our guide.
Best AirTag Batteries
Here's a list of best AirTag CR2032 batteries that you can buy and use with your AirTags. These batteries fit your AirTags perfectly and are fully compatible.
1. Duracell CR2032 3V Lithium Battery
Experience unwavering reliability with Duracell Lithium Coin Batteries, your steadfast source of enduring power for a myriad of electronic devices, both within your household and while on the move. The renowned Duracell 2032 3V Lithium Coin battery stands as a testament to excellence, fueling an array of everyday and indispensable home gadgets. From key fobs to remote controls, glucose monitors to thermometers, and beyond, these batteries empower your devices with unparalleled performance.
Never fret about battery readiness again, as Duracell Lithium Coin Batteries retain their potency for up to a decade in storage, ensuring they're primed for action precisely when you require them. Embrace the certainty that Duracell, the most trusted name in batteries, brings to your life. Whether it's navigating storm seasons, addressing medical necessities, or celebrating holidays, Duracell stands as the unrivaled choice. Discover the exceptional power of the 2032 3V Lithium Coin batteries, available in various pack sizes ranging from 1 to 8 counts.
Buy Duracell CR2032 3V Lithium Battery for $18.82 here.
2. Energizer CR2032 Batteries
Don't be deceived by their compact size – the pack of six Energizer 2032 Lithium Coin 3-Volt Batteries packs a punch when it comes to providing enduring and reliable power for your coin-battery-operated devices. Whether it's heart rate or glucose monitors, remote controls, keyless entry systems, key fobs, watches, toys, games, or even more specialized gadgets, our coin batteries seamlessly integrate with the devices that complement your lifestyle, ensuring uninterrupted functionality. Demonstrating unwavering performance and sturdiness, Energizer Coin Lithium Batteries are engineered to withstand a broad spectrum of temperatures (ranging from -22º to 140º F) and maintain their charge for up to a decade in storage, offering a dependable source of coin battery power.
Crafted with a commitment to environmental responsibility, these batteries contain no mercury and are housed in child-resistant safety packaging, prioritizing the safety of your young ones. The superiority of Energizer Lithium Coin Batteries for your specialized devices is evident and indisputable.
Buy Energizer CR2032 Batteries for $7.69 here.
3. Panasonic CR2032 3.0 Volt Long Lasting Lithium Coin Cell Batteries
Panasonic CR2032 batteries have been meticulously designed to deliver dependable and enduring power. Their reliability remains steadfast even across a broad spectrum of operational temperatures ranging from 14°F to 140°F. These batteries, along with their packaging, not only meet but also surpass the compliance standards of IEC 60086-4 2019, ANSI c18-3m part 2-2019, and UL 1642.
With a commendable shelf life of up to 8 years and a nominal voltage of 3.0 V, Panasonic CR2032 coin cell batteries exhibit excellence. Their versatility shines through as they are ideal for a wide array of applications including car key FOBs, watches, calculators, garage door openers, toys, LED lights, games, MP3 players, digital voice recorders, remotes, door chimes, sporting goods, calorie counters, stopwatches, and glucometers, among many others.
Buy Panasonic CR2032 3.0 Volt Long Lasting Lithium Coin Cell Batteries for $8.25 here.
4. Voniko 3 Volt CR2032 Battery
With a VONIKO 2032 battery in your possession, the possibilities are virtually boundless. From timepieces to computer motherboards, calculators to AirTags, garage door openers to pet collars, and stopwatches to an array of devices, this battery coin cell proves its versatility time and again.
The innovation extends to safety as well. VONIKO takes pride in presenting the market with the most secure 3v coin cell battery to date. Rigorous testing procedures precede each release, ensuring leak-free operation that grants unparalleled peace of mind. Upon unboxing, the confidence in VONIKO's reliability is unmistakable.
Distinguishing itself from ordinary flat batteries, VONIKO incorporates a dual corrosion protection design, negating any chances of encountering corrosion or acidic leakage within your cherished devices. With a legacy spanning several decades, VONIKO's commitment to battery safety stands unrivaled and unwavering.
Buy Voniko 3 Volt CR2032 Battery for $4.99 here.
5. JUNPOWER CR2032 3V Lithium Battery
JUNPOWER presents a range of robust and high-performance lithium batteries, catering to a diverse global clientele. Elevate your device performance with cutting-edge high-capacity lithium batteries. Noteworthy for their individual cell configuration, these batteries ensure utmost safety, convenient storage, and an extended shelf life.
Boasting a charge capacity of 240 mAh, this AirTag battery replacement offers a consistent, dependable voltage output. With a remarkable 5-year shelf life, you can trust in the longevity of these batteries. Furthermore, the company's commitment to safety and sustainability is evident as these batteries are entirely leak-proof and mercury-free.
Designed to cater to a wide array of devices, these batteries find their ideal application in remote controls, car/key fobs, LED lights, weight/kitchen scales, security alarms, calculators, watches, toys, wearable technology, medical devices, and numerous other everyday essentials.
Buy JUNPOWER CR2032 3V Lithium Battery for $ here
To Conclude
 Know that you know which batteries to use with AirTags and have multiple options at your disposal, you can now make an informed decision that suits your preferences and needs.
So, embark on your tracking journey confidently, armed with the knowledge of the best AirTags battery type, and enjoy the convenience and security they bring to your belongings.