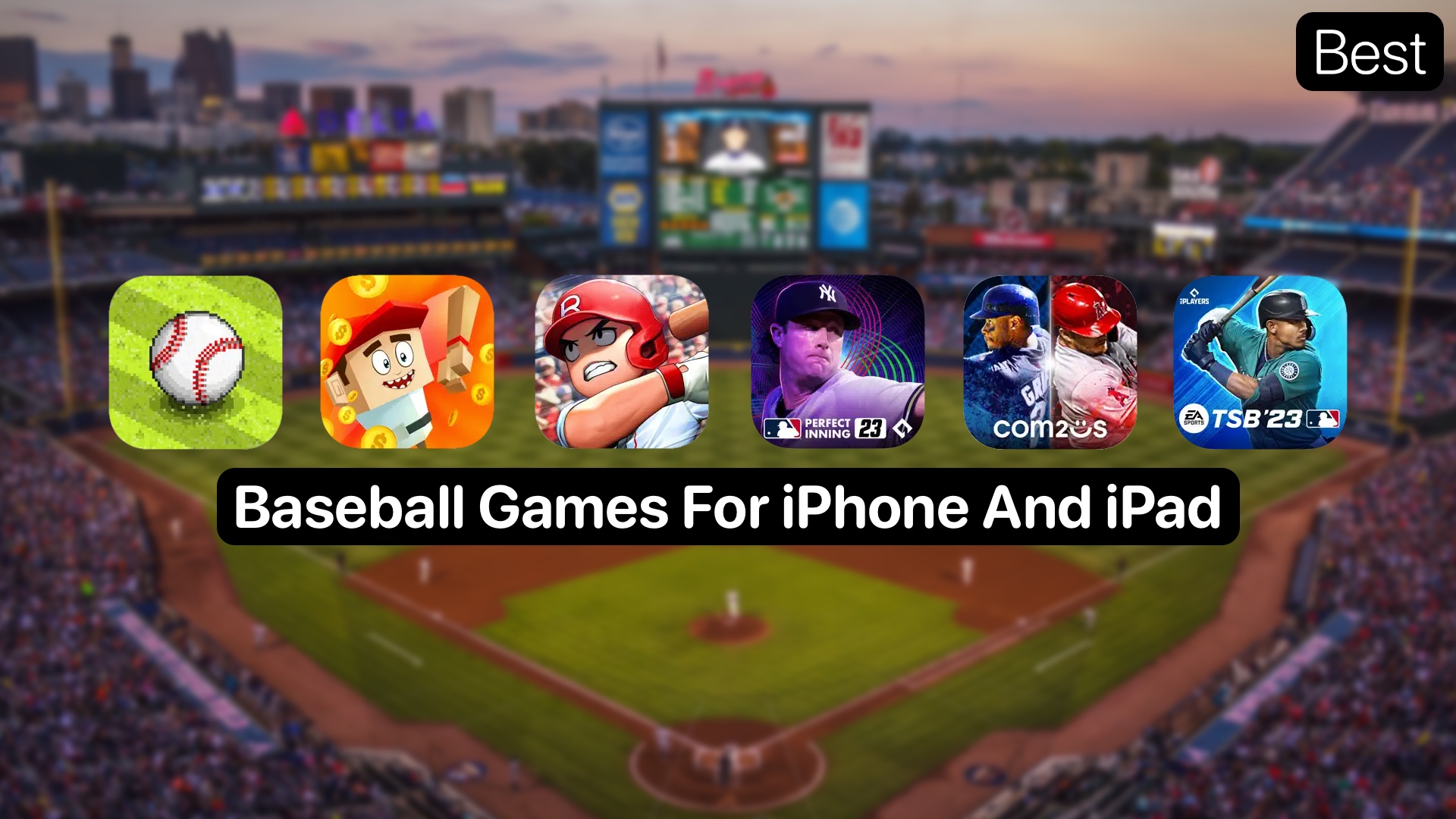 Best Baseball Games For iPhone And iPad In 2023
In this article, we discuss the best baseball games for iPhone that give you a chance to take charge of the field and hit some digital home runs.
Let's face it, not all of us were born with a golden arm or lightning-fast reflexes destined for the big leagues. And that's perfectly okay. 
Sure, we can't all be pro athletes on the field, but who needs cleats and a dusty mitt when you've got the power of iOS gaming? 
Instead, you've got a front-row seat to an incredible digital ballpark, complete with all the thrills, spills, and cheers you could ever dream of with iPad MLB games. 
So, while you might not be signing autographs at the stadium, you'll be racking up high scores and bragging rights right from your favorite comfy spot.
Hit a Gaming Home Run With The Best MLB Games for iPhone
Whether you're a die-hard fan who can't get enough or a casual player looking for a quick fix of excitement, we've got the perfect pitches to keep you glued to your screen.
With the best baseball games for iPhone and iPad, you're not just a player – you're the MVP, the coach, and the ultimate fan, all rolled into one.
1. MLB 9 Innings 23
If you're looking for the ultimate iPad baseball games in 2023, MLB 9 Innings 23 is your ticket to the big leagues. With stunning graphics and realistic gameplay, you'll feel like you're right there on the field. 
One of the best baseball games for iPhone, as soon as you fire up the game, you're in the thick of the action. You'll find yourself surrounded by legendary baseball heroes of the past here to give you an unforgettable taste of baseball history.
As a player, show your team pride and rep your favorite squad's history by accomplishing achievements to unlock snazzy uniforms. Dive into the Power Ranking Tournament and give it all you've got to secure that coveted first place. Plus, there's the pick'em Tournament, where rewards pile up faster than a hot dog stands during the seventh-inning stretch.
Download MLB 9 Innings 23 now.
2. BASEBALL 9
Craving a more casual, yet thrilling baseball experience? This baseball video game franchise has simple controls and charming visuals, making it a home run for quick gaming sessions. 
Once you're in the batter's box of the best baseball game for iPhone, the gameplay is fast-paced and electrifying. Imagine a game that strikes the perfect balance between being approachable for casual players and deep enough for hardcore baseball aficionados.
As you strategize your moves, you'll quickly discover that every aspect of the game is just as engaging as your at-bats. And speaking of at-bats, if you're feeling daring, you can even control the base running manually and show off your skills.
You can rename players, gear them up, and even tweak their appearances. With a range of equipment options, you can truly create a team that reflects your unique gaming personality.
Download BASEBALL 9 now.
3. Baseball Boy!
Time to unleash your inner slugger in the most unconventional way possible with the best baseball games for iPhone. Baseball Boy! lets you take a break from realism and launch baseballs into the stratosphere. 
Upgrade your gear, hit crazy targets, and see how far you can blast those balls. As for the gameplay and user interface, it's a total breeze with this baseball game free for iOS. 
You're the batter, and your goal is to hit that baseball with all your might. Your objective? To hit that ball as far as humanly possible, and trust us, there's nothing more satisfying than hearing that crack as you make perfect contact.
As you keep playing, you'll be rewarded for your mighty hits. And with those rewards, you can upgrade your stats. As you improve your stats, you'll notice your best distance increasing. And hey, who doesn't love breaking their own records?
Download Baseball Boy! now.
4. Pixel Pro Baseball 
Love the nostalgia of pixel art? Pixel Pro Baseball is the best MLB game for iPhone that combines old-school graphics with modern gameplay mechanics. But what truly makes it one of the best baseball games for iPhone is that it offers a delightful blend of skill-based gameplay and tactical team management that's perfect for fans of all ages.
The controls are refreshingly simple, making it easy to jump right into the action. And the game's realistic physics ensure that every swing, pitch, and catch feels just right as if you're right there on a vintage arcade machine.
The fun begins with gameplay that lets you take charge of both batting and pitching. Batting requires precision and timing, while pitching is a strategic dance of curveballs and fastballs that'll keep you on your toes. 
Plus, the game's advanced AI ensures fielding feels smooth and challenging, with intelligent pitchers who react to your every move.
Download Pixel Pro Baseball now.
5. EA SPORTS MLB TAP BASEBALL 23
Looking for something fast-paced? EA SPORTS MLB TAP BASEBALL 23 iPad MLB game is the name of the game. Tap to swing, tap to pitch – it's all about timing and strategy. 
Compete against friends, collect legendary players, and prove your skills on the virtual diamond with the best baseball games for iPhone. Here's the game plan: assemble your dream team from the most current MLB rosters and take them to authentic ballparks. 
Think you have what it takes to go all the way? With simple controls that let you swing for the fences, you'll be knocking those virtual baseballs out of the park in no time. Just remember, it's three strikes and you're OUT!
With various game modes to keep you entertained all day long, you'll be mastering batting and pitching to truly rule the diamond.
Download EA SPORTS MLB TAP BASEBALL 23 now.
6. MLB Perfect Inning 23
Prepare to be amazed by the lifelike graphics and gameplay of this ultimate iPad baseball game in 2023. The attention to detail is striking, from player animations to stadium ambiance. With full control over pitching, batting, and fielding, you'll be engrossed in the world of professional baseball.
One of the best baseball games for iPhone, it's a grand slam of entertainment, and the rewards are as plenty as peanuts at the ballpark. The game brings the MLB to your fingertips with updated team logos, uniforms, rosters, and ballparks that'll make you feel like you're right in the center of the action. 
Plus, with the integration of the official MLB rules for 2023, you'll be playing by the book and experiencing every strategic twist and turn of the game. Get ready for some real-time PvP action in the 15-on-15 Co-Op Club Battles. Engage in epic battles against rival clubs, rise to the top of the league, and bask in the glory of victory.
Download MLB Perfect Inning 23 now.
Swing into Action!
Why wait for the seventh-inning stretch to enjoy the excitement of America's favorite pastime? With just a few taps and swipes, you can transport yourself to the heart-pounding action of the ballpark, right from the comfort of your couch, your favorite cafe, or even that cozy nook in your backyard. 
As you play through these baseball video game franchises, remember that every swing, every pitch, and every strategic move is an opportunity to unleash your competitive spirit and have a blast while doing it.
So, which one of these best baseball games for iPhone are you playing today?