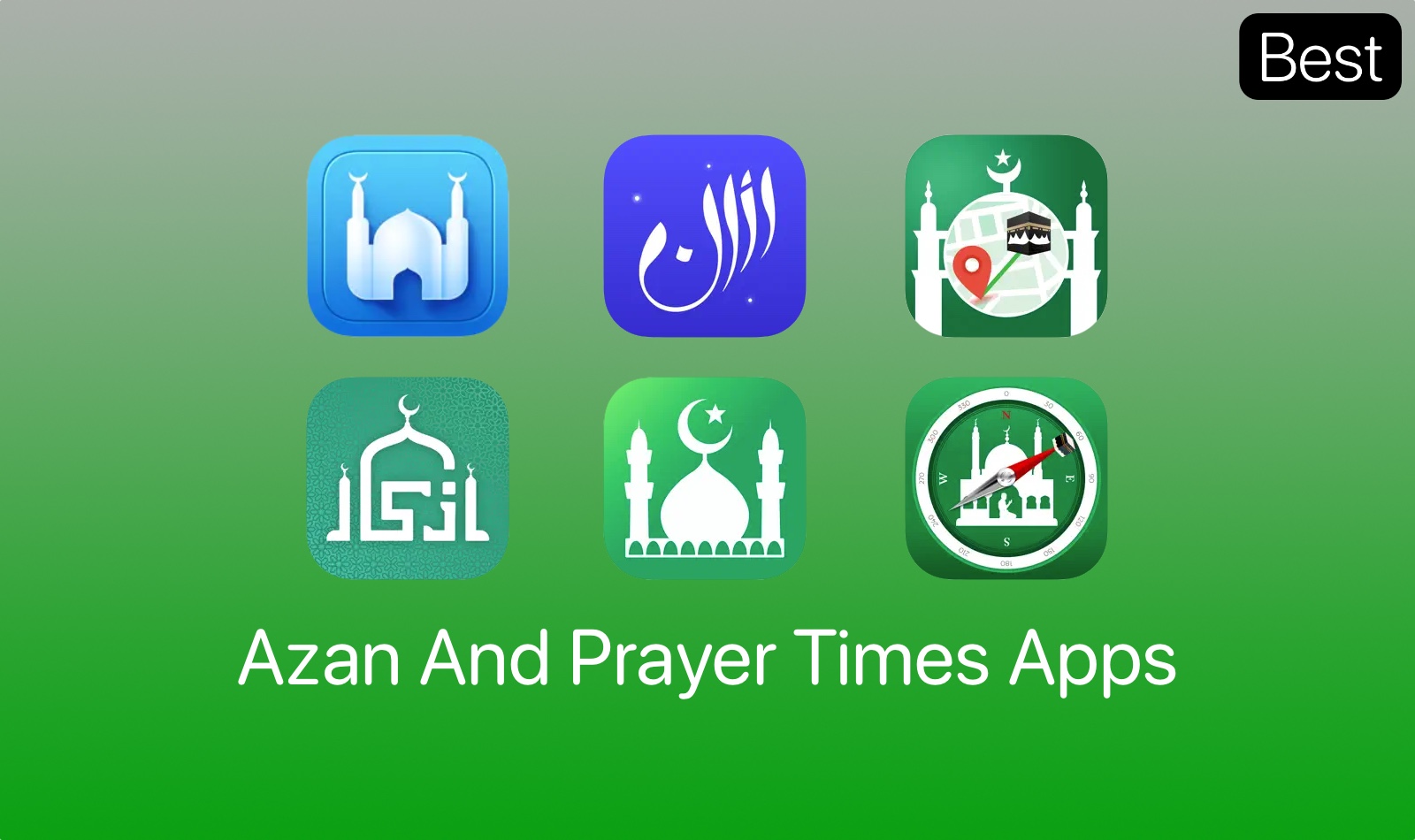 Best Azan And Prayer Times Apps For iPhone In 2023
In this article, we discuss the best Azan apps that act as your spiritual assistant, guiding you through your daily prayers and helping you stay connected to your faith, even in the midst of a bustling world.
Have you ever found yourself doing the "Where's my prayer mat?" dance right when the Azan starts echoing in the air? Maybe you've experienced the "Am I late or early?" dilemma while rushing to catch those sacred prayer moments? Or maybe you're just tired of calculating Qibla direction like a human compass? 
Life gets busy, and sometimes it's easy to lose track of time. Plus, if you're traveling or constantly out of home, it can be tricky to not only figure out prayer times but also the Qibla direction.
But, no need to tangle yourself into any of these problems anymore. Your iPhone isn't just good for entertainment, it can also ensure you never miss a beat when it comes to your spiritual rhythm. 
Discover the Best Islamic Prayer Time Apps for iPhone
Whether you're a devout worshipper or simply someone who loves adding a sprinkle of fun to their daily routine, these are the best Azan apps that will change your life. 
1. Muslim: Azan, Qibla, Al Quran
This one-stop shop isn't just about prayer times. Navigate the Qibla direction, read Al Quran, and of course, never miss an Azan, making it one of the best prayer time apps available today.
The best Azan app, it combines precision prayer times, Qibla guidance, Quran access, and meaningful features to enhance your spiritual journey.
Key Features:
Get precise Azan times based on your location or region.
Easily locate Mecca and determine Qibla direction using Compass Mode.
Record and track your Dhikr counts and loops effortlessly.
Locate nearby Mosques and Masjids on the interactive map.
Access the Quran in 40+ languages with transliteration options.
Listen to recitations by renowned Qaris for a diverse listening experience.
Tune into a 24/7 live view of the Kaaba.
Discover the 99 names of Allah, complete with meanings and hymns.
Download Muslim: Azan, Qibla, Al Quran now.
2. Muslim Pro: Quran Athan Prayer
The Muslim Pro is the best Azan app that comes locked and loaded with Quran readings and prayer times. 
But what truly makes it one of the best Azan apps free of costs, is the Islamic Content Hub. Originals, films, TV series, documentaries – it's a buffet of enriching Muslim content filled with the teachings of Islam. 
Key Features:
Stay connected with visual and audio prayer notifications.
Stay updated on important Islamic events.
Engage in customizable dhikr on-the-go.
Discover the 99 names of Allah.
Access a collection of daily duas and supplications.
Locate halal restaurants and mosques near you.
Submit prayers and receive community support through dua.
Easily calculate your Zakat to fulfill this important pillar of Islam.
Experience the app and the Quran in your preferred language.
Enjoy audio recitations, phonetics, translations, and colored Tajweed
Download Muslim Pro: Quran Athan Prayer now.
3. Athan Pro: Quran, Azan, Qibla
From Azan melodies that could make birds jealous to pinpoint prayer times, the Athan Pro Muslim prayer time app has got it all.
The best Azan app, it hooks you up with features that are nothing short of divine blessings. From the convenience of Apple Watch compatibility to a handy widget that keeps your prayer times at a glance, your spiritual journey is as smooth as silk.
Key Features:
Dynamic wallpapers that change according to upcoming prayer times.
Daily dashboard for Ramadan, displaying prayer, Iftar, and Tarawih times.
Daily Hadith and Picture of the Day.
Tasbeeh with phonetic support in French and English.
Azkar before, during, and after prayers.
Display of the 99 names of Allah.
Locate nearby mosques and Halal places.
Monthly schedule (imsakiye) for prayer times.
Visualize Qibla direction using AR or use a Qibla compass for precise direction.
Download Athan Pro: Quran, Azan, Qibla now.
4. Athan: Prayer Times & Al Quran
One of the best Azan apps, Athan: Prayer Times & Al Quran is your companion in faith, your guide through prayers, and your source of spiritual nourishment. 
With over 45 languages to choose from, bookmarking Surahs and Ayahs, and the sweet sound of Quran recitation, your spiritual connection is just a tap away with the best prayer time app for iPhone.
Key Features:
Count daily Dhikr, Tasbihat, and Wazaif with a user-friendly Tasbeeh Counter.
Explore Islamic/Hijri Date, Prayer Times, Athan Pink (for women), Dua of the Day, Quran Recitation Reminder, and more.
Listen to Azan five times a day with accurate Muslim prayer times and notifications.
Specifically designed for women with excused prayers during menstruation, Duas, and period tracking.
Access a variety of supplications, daily Athkar, and the Dua of the Day.
Step-by-step guidance and Duas for Umrah and Hajj journeys.
Integrated Qibla compass for accurate Qibla direction worldwide.
Download Athan: Prayer Times & Al Quran now.
5. Azkar: Athan & Prayer 
With Azkar, the best Azan app, prayer times and devotionals are just a tap away.
This Islamic prayer time app begins with a seamless, user-friendly interface that welcomes you with open arms. It's like your tech-savvy prayer buddy, offering everything you need for a spiritually uplifting experience. 
From Azkar and Duas to Prayer times, Qibla direction, and even the Holy Qur'an, it's all here, neatly packaged for your convenience.
Key Features:
Azkar, Duas, Prayer Times, Qibla, Holy Qur'an, and more.
No internet is required for accessing essential content.
Listen to Azkar and Duas in soothing voices and play audio in the background.
Set notifications for timely Azkar readings.
Listen to the Holy Qur'an with your preferred reciter.
Accurate prayer timings with full Azan alerts.
Constant reminders, tips, and verses for daily reflection.
Dedicated sections for spiritual counting and fasting tracking.
Learn about the life of the Prophet through a dedicated biography section.
Access legal ruqyah for spiritual healing offline.
Download Azkar: Athan & Prayer now.
6. Muslim Prayer Times & Qibla
The Muslim Prayer Times & Qibla app is like your personal timekeeper, ensuring you're never late for prayer. Plus, its Qibla compass is so on point, it could guide a camel through a desert maze.
One of the best Azan apps in 2023, its main focus is to provide you with accurate Islamic prayer times and the direction to the Qibla. No matter where you find yourself on this beautiful planet, you'll know when and where to pray.
What makes it the best Azan app is that there are no complicated interfaces or techy confusion. It's all about keeping things stylish, easy, and oh-so-convenient.
Key Features:
Qibla Compass for precise direction during prayers
GPS positioning ensures accurate prayer time calculation using the device's built-in GPS and cellular antenna.
Customizable prayer times adjustment to suit your schedule.
Two Juristic Methods (Shafii, Hanafi) for different schools of thought.
Monthly prayer times for the current and upcoming months.
Adhan notifications to ensure you never miss a prayer.
Islamic Calendar with date conversion from Hijri to Gregorian.
Locate nearby mosques with accurate distances and addresses.
Quranic reading in Arabic with full English translation.
Offline Quran reading for uninterrupted reflection.
Explore the 99 Names of Allah in Arabic, English, and audio.
Download Muslim Prayer Times & Qibla now.
Tech Meets Tranquility
Gone are the days of fumbling through paper schedules or hastily calculating prayer times like a mathlete. 
Thanks to these tech-savvy and the best prayer time apps in 2023, you can now breeze through your day while staying impeccably connected to your spiritual rhythm. 
It's like having a digital guardian angel for your prayers, complete with a Qibla compass and a symphony of melodious Azans.
So why wait? Embrace the future of faith, tap into the power of the above-mentioned best Azan apps, and let your iPhone become the ultimate sidekick in your quest for spiritual fulfillment.