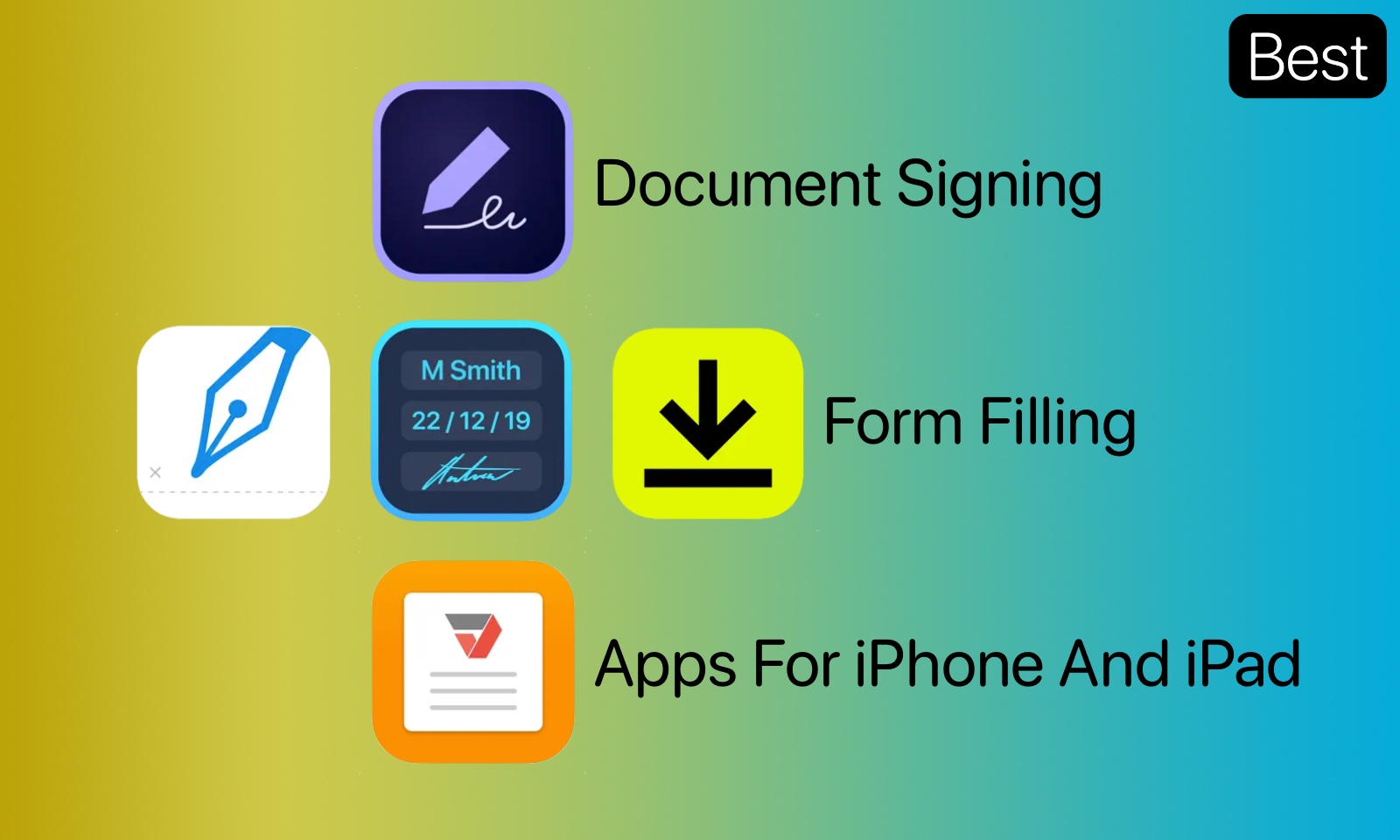 Best Apps To Fill Forms And Sign Documents On iPhone And iPad
In this article, we have rounded up our top picks of free apps to sign documents and fill out forms so you don't have to test and try every app till you find the perfect one.
Unless you're just hopping out of the time machine to visit the future, you'd know how much the world has gone digital. We get our entertainment, food, clothes, groceries, and almost everything else right from apps on our smartphones.
Similarly, there are apps that make your work a little bit easier – especially if you're constantly dealing with electronic documentation.
There's a point where Apple Books stop being as efficient and helpful as you need it to be. At that point, you need the best apps to fill out forms and sign documents without the need to go tangible.
You cannot rely on Apple Books if you want to annotate, edit, or sign a document on your iPhone or iPad. Nor should you be forced to take help from printers, paper, and scanners anymore.
Instead, you want to get a good and free app to sign documents and fill out forms that may come your way. Let's take a look.
1. DocuSign – Upload & Sign Docs
DocuSign is the best app to sign documents as it caters to businesses and individuals who face large quantities of electronic documentation on a daily basis.
You can safely and securely sign unlimited agreements from anywhere, at any time, and from any iOS device, and share them with anyone you want.
Start with creating a customized digital signature directly from your device. Then, upload documents that need to be signed via email, Google Drive, DropBox, Box, Evernote, Salesforce, or photo scanning.  You can e-sign as many documents as you want for free with no limit.
As for your confidentiality and legal concerns, the DocuSign app complies with the eSign Act, which means that all agreements are legally binding. Plus, there is a complete audit trail to track every signing detail. Moreover, all documents are encrypted, which essentially guarantees that your e-documents are far safer compared to paper documents.
2. Adobe Fill & Sign-Form Filler
You cannot go wrong with the Adobe Fill & Sign free apps to sign documents.
Can't upload the form? Take a picture of the paper, fill it out, e-sign it if needed, and share it with whomever you want.
So, let's discuss the process in a bit more detail. You start with either uploading files from email or scanning paper forms with your camera app. If you want to enter text or checkmarks in the form fields, just tap on the targeted places.
To sign an e-document, you will have to create your signature first. You can create it with your finger or a stylus. Once done, apply your signature (or initials) to the form.
That's all. Once your forms are all filled up and signed, you can save them and share with others via email. Moreover, you can also upload your forms directly to cloud storage without a hassle.
3. Signeasy – Sign and Send Docs
The digital signature free app is used in 80+ countries, supports 24 languages, and has processed over 100 million contracts since its inception. Signeasy is the easiest and most convenient e-signature app compatible with all your iPhone, iPad, and Mac devices.
You can sign and share any document in any format including but not limited to PDF, Word, Excel, JPG, and PNG. Evident from its 4.9-star rating, the app is a fan favorite for various reasons.
While all the signatures are legally binding and backed by a digital audit trail, the data and information are secured with industry-standard SSL encryption. Moreover, Signeasy is also compliant with ESIGN, UETA, eIDAS, Aadhaar eSign, HIPAA, and SOC2.
You can save and import documents to a cloud storage app of your choice, sign through shareable links or QR codes, and sign unlimited documents across phones and the web.
4. Fill PDF Editor, Signature App
Fill PDF Editor, Signature App is a must-have app for iPad and iPhone users. The delightfully designed software allows you to import, fill, and annotate documents by inserting text, icons, stamps, and e-signatures.
Start by either creating your personalized digital signature or importing a digital version effortlessly. Then, upload documents from a computer, iCloud, Dropbox, Google Drive, or Files. Edit your documents, sign or stamp them yourself or request e-signatures for contracts, and save & share edited files via email.
Like other free apps to sign documents mentioned above, Fill is compliant with HIPAA & GLBA. All your documents will be securely stored with military-grade encryption and can be traced with the audit trail. Plus, they are all legally binding as well.
You can conduct surveys, collect data, securely manage documents, customize document templates, and collaborate with others effortlessly.
Download the Fill PDF Editor, Signature app now.
5. Form Filler: Fill & Sign Forms
Most apps to fill forms on iPad and iPhone cater to businesses only. But, the Form Filler app aims to provide user-friendly and convenient PDF editing for taxpayers, accountants, and job seekers as well.
The form filler fills and signs form conveniently through your iPad or iPhone but there's one catch. You must be familiar with LinkToFill in pdfFiller to be able to conveniently use this app without any complications.
You can place a PDF signature on IRS forms, fill out multiple job applications in one go, and maintain the expenditures and income of the business with ease.
Start by uploading the document through the photo gallery or cloud storage. You can also access documents by following a link or scanning the QR code provided by the sender. Fill out the forms and when done, save and submit them with a single click.
In Summary…
Handling electronic documents is a paramount concern for businesses that deal with loads of PDFs and digital documents on a daily basis. Even as an individual, you may need to get an app to fill out forms on your iPhone if you choose to work remotely.
Get rid of that endless paper trail and the need to be present in person to get anything signed. Download any of these apps to fill out forms and sign documents digitally from anywhere, at any time, with ease.