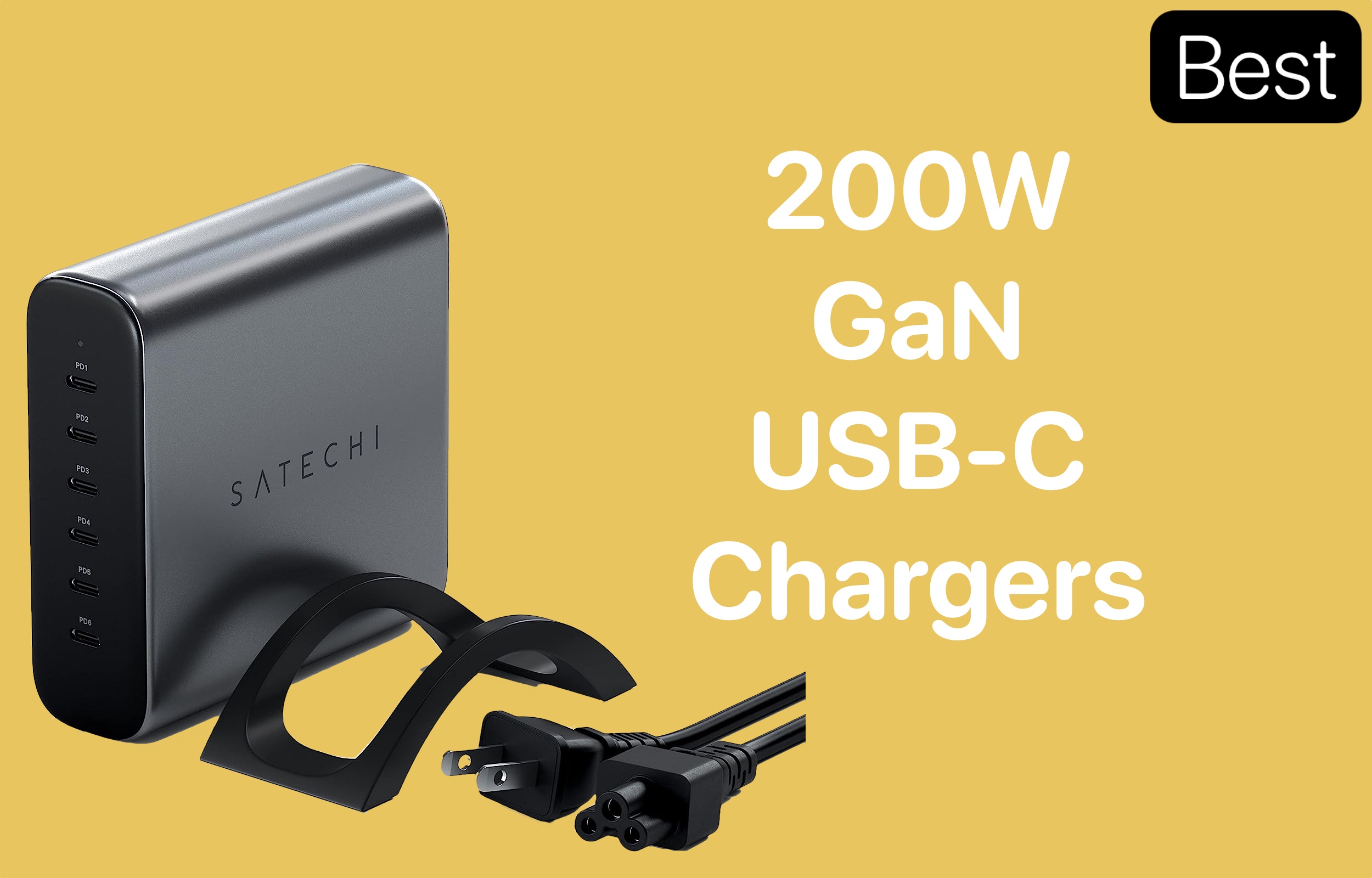 Best 200W GaN USB-C Chargers For Your Apple Devices
In the ever-evolving world of technology, staying connected and charged is paramount for Apple device users. With the rise of GaN (Gallium Nitride) technology, the charging landscape has experienced a transformative shift, offering users faster and more efficient charging solutions. 
In this comprehensive article, we delve into the realm of cutting-edge 200W USB-C GaN chargers explicitly tailored for Apple devices.
These USB-C GaN chargers are great for those who have to charge multiple devices including iPhone, iPad, MacBook, Apple Watch, AirPods, and more
The Best 200W GaN Chargers in 2023
Whether you are an iPhone lover, an iPad enthusiast, or a MacBook devotee, we have meticulously curated a list of the best 200W chargers that promise lightning-fast charging speeds, compact designs, and unparalleled versatility to keep your beloved Apple gadgets powered up and ready for action.
Join us as we explore the forefront of charging technology and uncover the top contenders that will revolutionize your charging experience.
1. Satechi GaN 200W USB C Charger with 6 Ports
This sleek and efficient powerful 200W charger features six USB C 3.1 ports, with two capable of delivering an impressive 140 watts each. Whether you need to charge your devices or power up energy-hungry gadgets, this USB C fast charger saves valuable time while staying connected.
Safety and reliability are paramount with the Satechi GaN charger, as it has CE & ETL certifications. Operating at a comfortable temperature of around 40°C, it incorporates over-current protection to ensure an efficient and secure charging experience for all your devices.
Designed with convenience in mind, this charger boasts a compact and lightweight form factor, making it a perfect travel companion or a space-saving addition to your desk. Bid farewell to cable clutter, as this portable USB C charger eliminates the need for multiple bricks and outlets.
Buy Satechi GaN 200W USB C Charger with 6 Ports for $149.99 here.
2. UGREEN 200W USB C Charger
Experience lightning-fast charging with this cutting-edge charger. Thanks to the latest GaN chip technology, you can fully charge a 16-inch MacBook Pro in just 1.5 hours – a remarkable 3 times faster than your original iPhone charger!
Designed to streamline your workspace, the Nexode 200W charger offers unparalleled versatility. With up to 200W of power, you can simultaneously charge 3 MacBooks, 2 mobile phones, and even your AirPods, all in one go.
Safety and performance are at the core of UGREEN's design. Advanced GaN & SiC chips ensure superior heat dissipation, while the Thermal Guard System continuously monitors the temperature, safeguarding your devices from overheating.
Buy UGREEN 200W USB C Charger for $199.99 here.
3. Meowcoco 200W 6-Port USB C Charging Station
With its impressive 200W capacity, this charging station boasts six ports, including a high-speed 100W USB-C1 port designed to charge laptops and tablets. Thanks to its rapid charging capabilities, you can quickly power up your devices and maximize your valuable time. This diverse range of ports allows you to charge up to six devices simultaneously, from laptops and phones to tablets, headphones, smartwatches, and other compatible devices.
Safety is a top priority, so the Meowcoco charging station is CE, FCC, and UL certified. You can rest assured that your devices are fully protected from excessive current, overheating, and overcharging. The intelligent design automatically halts charging when devices reach full power, ensuring their safety and longevity.
Compact and portable, the charger measures sleek (3.23.30.98 inches) and comes with a 4.9FT/1.5m power cord. Its lightweight and slim profile makes it ideal for travel, easily fitting into your pocket, handbag, or travel case. 
Buy Meowcoco 200W 6-Port USB C Charging Station for $50.50 here.
4. WOTOBEUS 5-Ports 240W USB C Charger Station
This sleek and compact 240W charger block comes with an AC extension cord and a high-quality 2m/6.5ft 5A E-marker USB C to USB C cable, featuring a 7-color LED light and a convenient 90-degree interface.
The USB-C ports offer exceptional flexibility. Each port can deliver a maximum of PD100W when used individually, making it perfect for fast-charging various devices. When combined (C1+C2+C3), the USB C charger plug impressively provides a total power output of 100W+65W+65W, making it ideal for charging multiple laptops simultaneously.
Its innovative gallium nitride solution sets the GaN 2 Pro generation apart, offering superior charging efficiency in a smaller and cooler form factor. Compared to its predecessor, GaN 1 Pro, GaN 2 Pro is more durable and protective, safeguarding against over current, short circuits, and over-voltage during simultaneous charging of multiple devices.
Buy WOTOBEUS 5-Ports 240W USB C Charger Station for $142.99 here.
5. Gigastone [GaN III] 200W USB C Charger
Gigastone [GaN III] 200W USB C Charger – a technological marvel that sets a new standard for charging efficiency and safety. This advanced charger boasts remarkable features that enhance your charging experience.
Unleash the power of speed with 5x faster charging capabilities, making charging your devices at lightning-fast rates possible. Despite its remarkable power, this charger is ingeniously designed to be 30% smaller and generates significantly less heat, ensuring both convenience and safety.
Your safety is paramount, and that's why it is integrated with 6 charging protection mechanisms to safeguard your devices and you. The 200w Charger USB-C intelligently delivers the optimal power output, enabling lightning-fast charging for a wide range of devices while ensuring their safety.
Buy Gigastone [GaN III] 200W USB C Charger for $64.99 here.
6. WOTOBEUS PD 100W Type C 65W PPS45W Super-Fast Charging
The WOTOBEUS PD 100W Type C 65W PPS45W Charging Station employs the GaN 3 Pro generation. This robust gallium nitride solution enhances charging efficiency and ensures a compact design with minimal heat generation. Compared to GaN 2 Pro, this advanced technology provides superior protection against over current, short circuit, and over voltage during multi-port charging, ensuring your devices stay safe and secure.
Experience true efficiency when using C1 and C2 simultaneously, as this charging cube delivers a remarkable 100W+100W fast charging power, enabling you to charge two laptops concurrently at full speed. Moreover, with all C ports in action (C1+C2+C3), this charger hub supplies 100W+65W+30W fast charging power, catering to the needs of a 100W laptop, a 65W laptop, and a cell phone simultaneously.
The USB A port is also no slouch, featuring Qualcomm Quick Charge QC3.0 and delivering 18W output during regular operation. However, with special cables designed for 60W, it can achieve an impressive 60-wattage power supply.
Buy WOTOBEUS PD 100W Type C 65W PPS45W Super-Fast Charging for $129.99 here.
7. HUNDA Total 245W GaN PD Fast Charger
HUNDA Total 245W GaN PD Fast Charger – your ultimate all-in-one charging solution. This cutting-edge USB C charger station boasts an impressive 245W total power, delivering lightning-fast charging for laptops, phones, tablets, and more. With this single charger, you can easily meet the charging needs of multiple devices, making it perfect for home, travel, and office use.
Additionally, the charger has comprehensive protection features, guarding your devices against over-current, over-charging, over-voltage, over-heating, and short circuits.
The HUNDA Total 245W GaN PD Fast Charger features three Type C (USB C) ports and two Type A (USB A) ports, enabling a total output power of 245W (USB C1: 140W max, USB C2/C3: 100W max, USB A2: 25W max). This means you can simultaneously fast-charge three laptops or a combination of devices. For instance, the USB C PD3.1 Port can charge your MacBook Pro 16" to 50% in 30 minutes.
Buy HUNDA Total 245W GaN PD Fast Charger for $129.99 here.
Winding Up…
These top-rated 200W GaN USB-C chargers offer the ideal blend of power, efficiency, and compatibility for your Apple devices. With their compact designs and fast-charging capabilities, you can now juice up your devices quicker and more conveniently than ever before. 
Upgrade your charging game with these cutting-edge chargers and experience the ultimate charging experience for your beloved Apple gadgets.