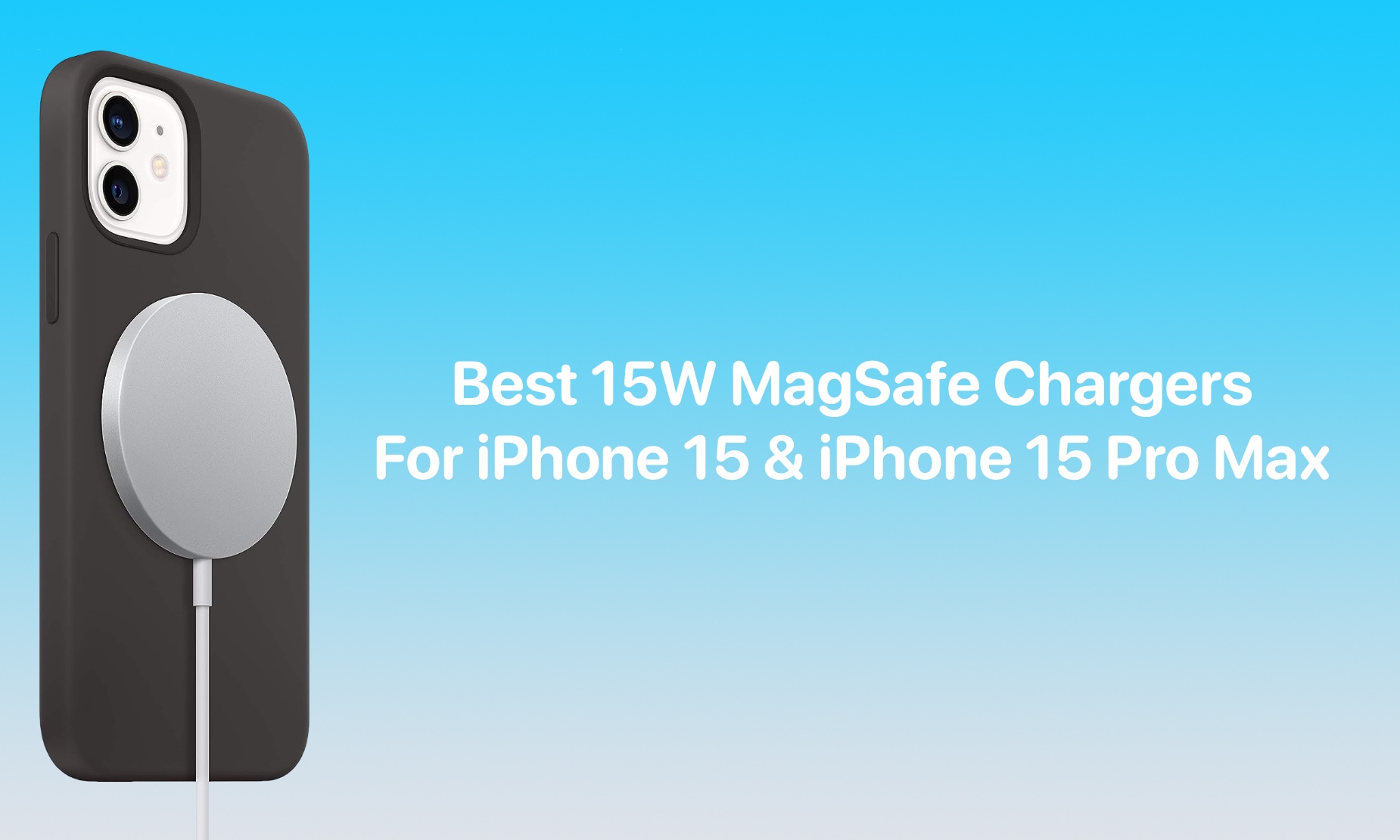 Best 15W MagSafe Chargers For iPhone 15 And iPhone 15 Pro
In this list, we have featured some of the best 15W MagSafe chargers for iPhone 15 and iPhone 15 Pro that you can buy right now. These magnetic wireless chargers can charge your device wirelessly at high speeds.
We all know that keeping our beloved gadgets juiced up and ready for action is a top priority. With the introduction of the iPhone 15 and iPhone 15 Pro, Apple has once again dazzled us with its cutting-edge technology.
But to make the most of these shiny new toys, you're going to need a charger that can keep up with their power-hungry appetites. That's where MagSafe chargers come to the rescue, offering a magnetic and convenient way to power up your devices.
In this article, we're going to dive into the world of 15W MagSafe chargers, rounding up the best options to help you keep your new iPhones fueled and ready for action. So, let's cut the cord and get charging!
In order to effectively use these MagSafe chargers, you also need MagSafe compatible cases for your iPhone. We have recently written about best MagSafe cases for iPhone 15 Pro Max here.
Best 15W MagSafe Chargers For iPhone 15
Here are the MagSafe chargers for your iPhone 15 that are capable of charging your iPhone at 15W charging speeds wirelessly.
1. Apple MagSafe Charger
The MagSafe Charger from Apple is a game-changer when it comes to wireless charging. It's designed to make your life easier. With its perfectly aligned magnets, it's a breeze to attach to your iPhone 15, delivering lightning-fast wireless charging at speeds of up to 15W.
The MagSafe Charger isn't just limited to the latest iPhones. It's also fully compatible with Qi charging technology. So, if you've got an iPhone 15 or any newer model, or even AirPods with a wireless charging case, you can use it just like any other Qi-certified charger. That means you can enjoy the convenience of wireless charging across a range of Apple devices.
And to top it all off, the MagSafe Charger comes with a built-in USB-C cable that's a handy 1 meter long. So, you've got everything you need for fast and convenient wireless charging right out of the box with this one of the best MagSafe chargers that charge iPhone 15 at 15W speed.
Buy Apple MagSafe Charger for $33.00 here.
2. TXQULA Magnetic Wireless Charger
One of the coolest features of this charger is its built-in strong magnet. It ensures a perfect alignment every time, so you don't have to worry about your phone slipping off during charging. Plus, it's compatible with magnetic phone cases, making it even more versatile. If your case isn't magnetic, simply remove it for hassle-free charging.
Safety should be the top priority, and that's why this one of the best 15W MagSafe chargers for iPhone 15 Pro Max comes with MFI certification and is CE, FCC, and RoHS certified. It offers protection against overheating, overvoltage, and short circuits, so you can charge with peace of mind.
But the best part? This magnetic wireless charger for iPhone 15 Pro is incredibly portable and user-friendly. You can continue to enjoy your favorite activities like playing games, watching movies, making video calls, or reading e-books while your phone charges, all without any discomfort. It's designed to work at any angle, giving you flexibility and convenience. Toss it in your backpack, and you'll have reliable wireless charging wherever you go.
Buy TXQULA Magnetic Wireless Charger for $15.98 here.
3. LISEN 3 in 1 Charging Station
This fast-charging MagSafe charger iPhone 15 Pro Max is your go-to choice for keeping your iPhone, Apple Watch, and AirPods powered up and organized whether you're at home, in the office, traveling, staying at a hotel, or in a meeting room.
When it comes to powering up your iPhone, especially the latest iPhone 15 Pro Max or any of the 14/13/12 series, this charger delivers lightning-fast charging speeds of up to 15W. It effortlessly aligns with your device using the Apple iPhone MagSafe technology, ensuring a secure and seamless connection.
This charger isn't just about function; it's also about style and convenience. It features a foldable, ultra-compact design that fits comfortably in your hand or pocket, making it a portable power companion that goes wherever you go.
Buy LISEN 3 in 1 Charging Station for $49.99 here.
4. Qiruicomy Magnetic Wireless Charger
The MagEase wireless charger is a total game-changer for your iPhone 15. This one of the best 15W speed MagSafe chargers for iPhone 15 has these awesome 16 magnets built right in that guarantee a perfect alignment when you pop your phone on it. No more fiddling around trying to find the sweet spot – just slap it on, and you're good to go!
And when it comes to charging speed, this thing is a beast. With up to 15W of power, it can juice up your iPhone 14/13/12 models super quickly. We're talking a whopping 50% charge in just 30 minutes! That means you can go from zero to half-full while you grab a coffee or finish up some work.
But it's not just about power – the MagEase 15W Wireless Charger looks sleek and stylish.Plus, it's got some high-tech safety features like temperature control and foreign object detection. So, you can charge up without any worries – your device will be safe and sound.
Buy Qiruicomy Magnetic Wireless Charger for $12.98 here.
5. THREEKEY Magnetic Wireless Charger
This charging pad is designed with 36 magnets that work perfectly with your MagSafe Charger. It's compatible with a wide range of iPhone models, including the iPhone 15, 14 series, 13 series, and 12 series.
For other wireless Qi-compatible phones, Threekey has got you covered, too. Inside the package, you'll find an extra accessory called the "Ring Metal." Stick it to the middle of your phone case or attach it to the back of your mobile phone, and voilà! Your phone will stay securely in place without any worries about it slipping off.
Plus, this charger packs a punch with a maximum 15W output. It also comes with intelligent protection technology, offering features like overheat protection, short circuit protection, and surge protection. So, you can charge your phone with peace of mind while you enjoy using it without any restrictions.
Buy THREEKEY Magnetic Wireless Charger for $13.99 here.
6. Niniber 15W Fast Wireless Charger
The wireless charging feature on the iPhone is pretty neat. It ensures that your charger is perfectly aligned with your phone and securely attached.
This iPhone magnetic wireless charger is designed to safely and securely charge your device. It's got a smart chip built in to protect your iPhone from overheating, overcharging, and short circuits. So, you can use it with peace of mind and enjoy a hassle-free charging experience.
Just like any wireless charger, this one adheres to Qi/FCC safety standards. So, while your iPhone is charging, it might get a little warm. But don't worry, to prolong your battery's lifespan, the software might limit charging to 85 percent if it gets too warm.
Buy Niniber 15W Fast Wireless Charger for $13.99 here.
7. FODAGURI Slim Wireless Charger
This nifty charger not only keeps your phone snug with its silicone surface ring and base, but it's also super compact, making it perfect to carry around.
You don't need to take off your favorite case to use it. This charger is smartly designed to work with lightweight plastic cases up to 6mm thick. It even handles those heavy-duty cases, though it won't work with cases that have magnets or metal attachments. To make your charging experience even better, grab a QC 3.0 power adapter.
And for all you safety-conscious folks out there, this cute wireless charging pad is the real deal. It's passed the CE, FCC, and RoHS certifications. Plus, it comes with built-in temperature control, voltage protection, and automatic shut-off. Oh, and it's got foreign object detection too! The LED on the charging pad keeps you in the loop, ensuring your smartphone's charging is stable and safe.
Buy the FODAGURI Slim Wireless Charger for $13.99 here.
8. JSAUX 2-Pack Magnetic Wireless Charger 
This engineer-tested magnetic wireless charger can juice up your iPhone from 0 to 100% in just 2 hours – that's lightning-fast! Even if you're in a rush, it can get your iPhone 15 to 50% in just half an hour, which is three times faster than the regular 5W iPhone charger.
This charger is built with high-quality metal material that not only performs well but also lasts a long time. Plus, it's super slim, only 0.23 inches thick, and comes with a 4.9-foot integrated multi-port cable. It's as small and light as it gets, so you can carry it around with ease and save some space.
Buy JSAUX 2-Pack Magnetic Wireless Charger for $25.99 here.
To Conclude
the market is teeming with exceptional options when it comes to iPhone 15 Pro Max MagSafe chargers and iPhone 15 fast wireless chargers.
With these top iPhone 15 fast wireless chargers, you can ensure that your iPhone 15 and iPhone 15 Pro are always powered up efficiently and securely, making your daily tech routine more seamless and enjoyable than ever before.
Embrace the future of wireless charging and elevate your iPhone experience with these outstanding chargers.