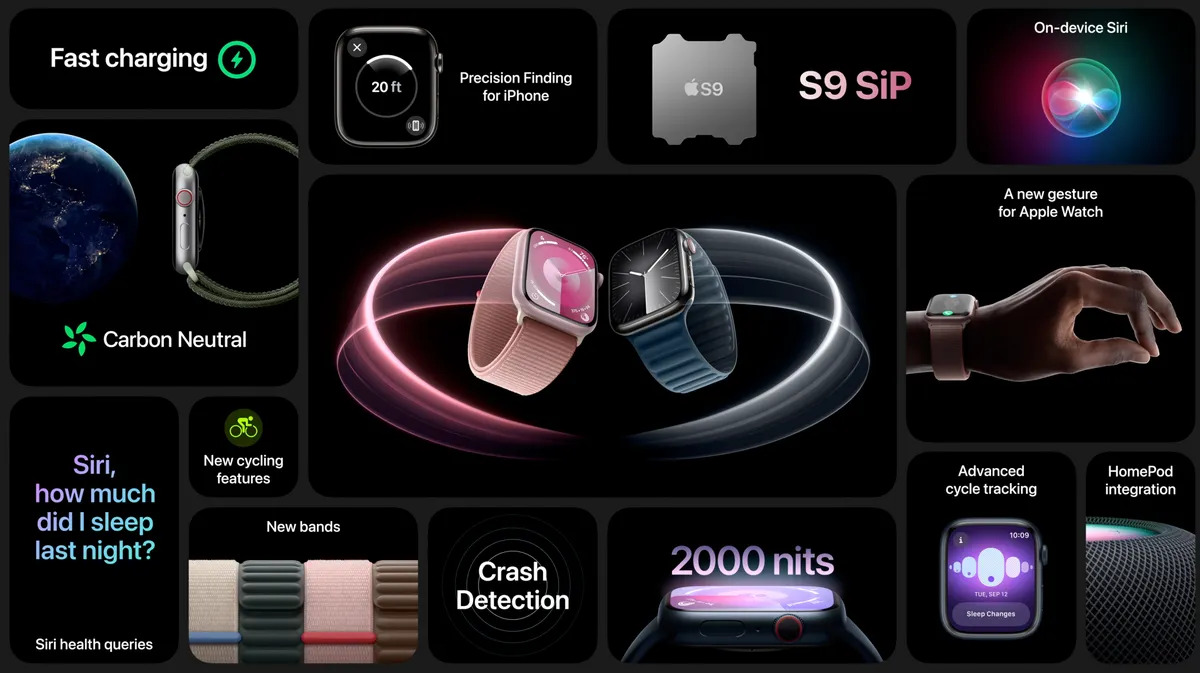 Apple Watch Series 9, Ultra 2 are now official
Apple is a name that needs no introduction in the wearables market, and Tuesday further cemented that opinion. In a highly-anticipated 'Wanderlust' event held on September 12, Apple not only introduced the iPhone 15 series but also unveiled new additions to its smartwatch lineup – the Apple Watch Series 9 and the second-generation Apple Watch Ultra 2, along with the 2nd Generation Apple Watch SE. These new wearables come with a slew of exciting features and enhancements that are set to elevate the Apple Watch experience to new heights.
The Apple Watch Series 9, a successor to the Series 8 and Apple's first carbon-neutral product, brings several improvements to the table, primarily focusing on performance and health-centric features. While the design remains largely unchanged from its predecessor, the Series 9 promises a significant boost in functionality.
One of the standout features of the Series 9 is its new (and most powerful) S9 chip. This chip, based on Apple's A15 Bionic, offers substantial processing power and improved efficiency, as well as more transistors than the S8 and a faster GPU. It also sports a four-core neural engine that processes machine learning much faster. This not only results in a snappier user experience but also contributes to enhanced battery life, a crucial factor for smartwatch users. It also comes with a second-gen ultra wideband chip to help users find their iPhone via the watch, and comes long with a blood oxygen sensor. You can request health queries from Siri on the Apple Watch as well – a feature that is set to come later this year.
Furthermore, Apple introduced a new feature called double tap. Users can simply tap their thumb and index finger on their watch hand twice, and users can use it to stop a timer, snooze an alarm, or play or pause music. This feature is set to come next month. The Apple Watch Series 9 comes in a new pink Aluminum case, while the colour options include pink, starlight, midnight and [Product] Red. The brightness on the Series 9 goes up to 2000 nits, the same as the iPhone 14 Pro display.
The second-generation Apple Watch Ultra 2, on the other hand, takes a leap in manufacturing innovation, and both smartwatches have the distinction of becoming the first Apple products to adopt the company's 3D printing method. This groundbreaking approach not only reduces manufacturing costs but also allows for tighter control over creating tiny titanium parts for the device. The Apple Watch Ultra 2 is the more premium of the two watches, is made available in a single size of 49mm, and is made from titanium. The Apple Watch Ultra 2 also features a new S9 chip and a new optical heart rate sensor, but it also has a number of other features that are not found on the Apple Watch Series 9.
The benefits of this new manufacturing method are twofold. Firstly, it potentially lowers the weight of the Apple Watch Ultra 2, addressing a common issue with its predecessor. Secondly, it paves the way for similar manufacturing techniques in other Apple products, possibly resulting in lighter iPhones and more. This innovation underscores Apple's commitment to advancing its manufacturing processes while simultaneously reducing its environmental footprint. Its brightness amounts to 3000 nits, while it has new watchface called modular ultra to take advantage of the Ultra's new display. With the Apple Watch Ultra 2, you can expect 36 hours of battery life and a diving depth of 40 meters.
As part of Apple's environmental efforts, the stainless steel models of the Series 9 use a new manufacturing process based on 3D printing. This sustainable approach aligns with Apple's commitment to reducing its environmental impact by utilizing recycled materials and innovative manufacturing techniques. While hardware changes might not be as significant in these new Apple Watch models, both the Series 9 and Ultra 2 will receive a major software boost through watchOS 10. This update is expected to introduce Smart Stack widgets, full-face apps, reactive watch faces, and topographic and 3D map and compass features. These software enhancements promise to enhance the functionality and user experience of the watches, making them more versatile and capable.
Both the Apple Watch Series 9 and Apple Watch Ultra 2 will be made available soon, providing Apple enthusiasts and wearable tech enthusiasts with exciting options for their wrist. The SE starts at $249, while the Apple Watch Series 9 starts at $399. The Apple Watch Ultra 2 is $799, and users can order today. The watches will be made available from September 22.