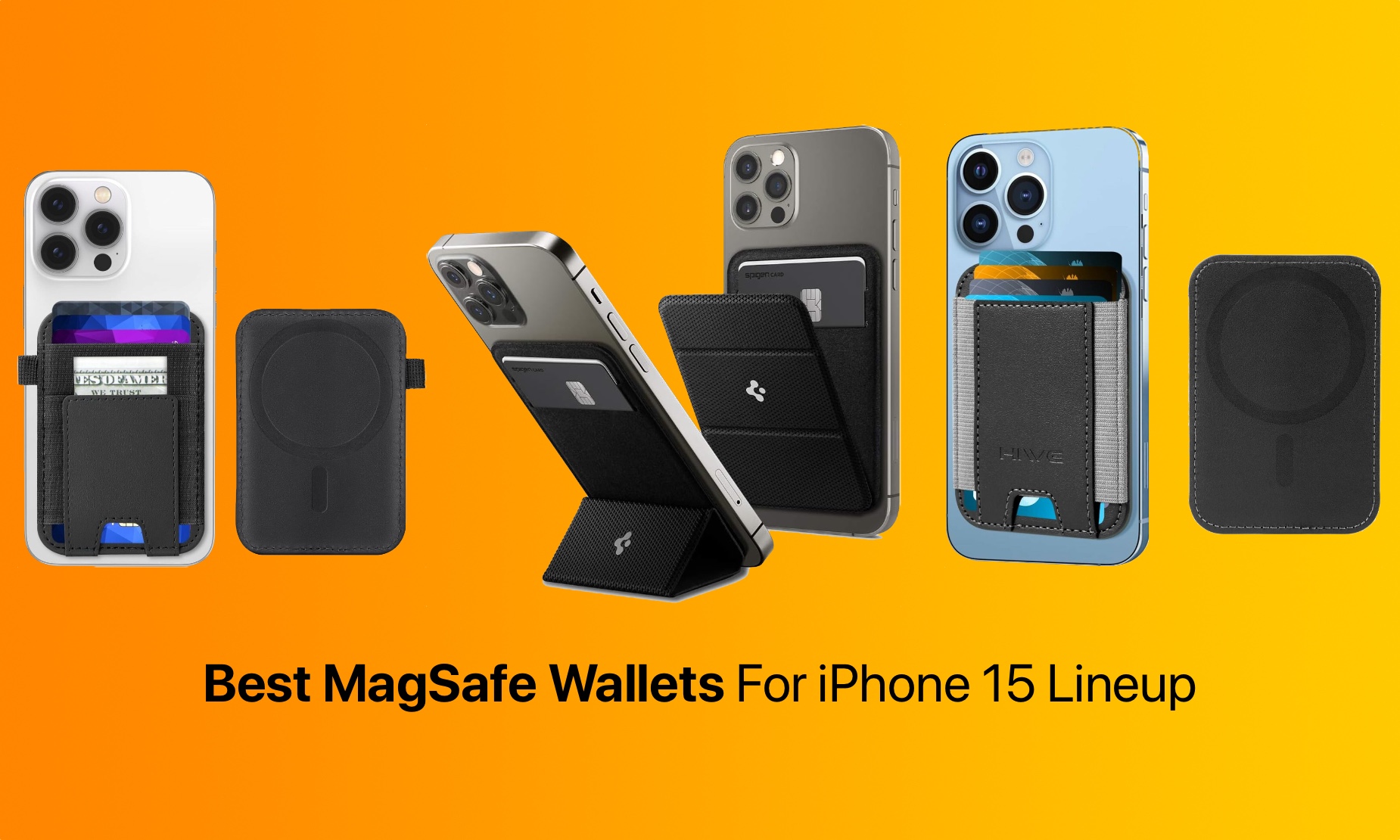 9 Best MagSafe Wallets For your iPhone 15 And iPhone 15 Pro
If you're anything like us, you've probably experienced the heart-pounding panic of patting your pockets, searching frantically through your bag, and retracing your steps only to realize that your precious iPhone 15 or iPhone 15 Pro is nowhere to be found.
Well, fear not, fellow Apple aficionados, because we're about to introduce you to the ultimate solution that combines style, functionality, and a touch of magic – MagSafe wallets! These nifty little contraptions not only keep your precious iPhone 15 series device safe and sound but also add a dash of flair to your everyday carry.
So, grab your phone, put on your reading glasses (if you can find them), and let's dive into the world of the best MagSafe Wallets For iPhone 15 and iPhone 15 Pro. Trust us; you won't want to miss this wallet-ful opportunity!
1. ExtreLife Magnetic Wallet
Introducing the sleek and functional MagSafe wallet – your stylish solution for on-the-go card storage. With its slim profile, it easily accommodates up to 7 cards or cash without adding bulk. Retrieving your cards is a breeze from the MagSafe wallet's empty slot, making it both practical and fashionable.
Crafted from durable, high-quality vegan leather, this MagSafe leather wallet for iPhone 15 is built to endure. Its hand-stitched finish not only enhances durability but also lends a luxurious appearance and premium feel. It even includes an extra keychain for added convenience, perfect for attaching to a lanyard or holding keys.
What sets this iPhone magnetic wallet apart is its powerful built-in magnets, boasting a remarkable 3500Gs of magnetic force – 20% stronger than the official magnetic card holder wallet. Say goodbye to worries about cards or cash slipping off; it effortlessly snaps onto the back of your iPhone.
Buy ExtreLife Magnetic Wallet for $19.99 here.
2. T-MFY Slim Magnetic Wallet 
With its unique slide lock design, this wallet offers the easiest way to access your cards with just one hand. Simply slide down the button, and your cards pop up effortlessly. Plus, this one-of-a-kind latch lock ensures your cards stay securely in place when you slide the button upward.
This pocket-sized aluminum wallet is perfect for both men and women. It's ultra-thin, super light, and designed for daily durability, with IPX4 water resistance. You can store 4-5 embossed cards and 5-6 flat cards, and there's even an external clip for your spare change. It's not just a wallet; it's a smart magnetic wallet card holder that makes life easier.
What sets T-MFY apart is its advanced aviation aluminum construction, which shields your cards from unauthorized contactless scanning. Say goodbye to card cloning and data theft – this wallet has got your back! It's a small, exquisite, secure, and practical magnetic wallet that adds convenience to your daily outings.
Buy T-MFY Slim Magnetic Wallet for $38.99 here.
3. HiWe For Magsafe Wallet
This RFID MagSafe wallet for iPhone 15 Pro comes with an extra-strong built-in magnet, boasting an impressive 3500Gs of strength – that's a whopping 20% stronger than the official magnetic leather wallet. This wallet is designed to seamlessly attach to your iPhone 15 series, ensuring a secure grip even during your most active moments.
Crafted from high-quality PU leather, this slim wallet not only looks great but also stands the test of time thanks to meticulous craftsmanship. Plus, it's designed to keep your phone sleek without adding any unnecessary bulk.
And, when it comes to security, this wallet has got you covered. It shields your cards from unauthorized scanners and prevents demagnetization, ensuring your identity and assets stay safe whether you're shopping, traveling, or working.
Buy HiWe For Magsafe Wallet for $14.39 here.
4. Spigen Smart Fold (MagFit) Magnetic Wallet
This nifty card holder isn't just about style; it's all about practicality too and that's why it's on our list of the best  iPhone 15 MagSafe wallets with stands. With its clever design, it can securely hold up to 2 cards in its storage slot. No more fumbling through your wallet or digging through your bag to find your cards when you need them most!
Its tri-fold design is like a secret superpower, turning your wallet into a convenient kickstand for your phone. Perfect for watching videos, making video calls, or just propping your device up on your desk.
And when it comes to accessing your cards, Spigen has got you covered there too. There's an additional access port that makes it a breeze to grab your cards when you need them – no more wrestling with your wallet to get to your essentials. Its slim form factor makes it easy to slide in and out of your pocket without adding any bulk.
Buy Spigen Smart Fold (MagFit) Magnetic Wallet for $24.99 here.
5. ESR Magnetic Wallet (HaloLock)
ESR Magnetic wallet has some seriously strong magnets built-in, making sure your stuff stays locked down with a magnetic force that's 250% stronger than what the official magnetic wallet offers. No worries about your items slipping out when you take your phone out of your pocket!
The design is sleek and lightweight, seamlessly attaching to the back of your phone. Inside, a dynamic tension spring keeps 1 to 3 cards super secure.
But that's not all – there's a handy finger loop on the back. It not only gives you a more comfortable grip when you're on the move but also doubles as a stand. So, when you want to go hands-free for some landscape viewing, just pop that loop out, and when you're done, it folds flat and slips right back into your pocket.
Buy ESR Magnetic Wallet (HaloLock)for $12.99 here.
6. PopSockets Minimalist Slim Phone Wallet 
This sleek and sturdy wallet is designed with a magnetic closure that not only keeps your cards safe but also offers a convenient way to carry them alongside your phone.
The best part? You can wirelessly charge your phone with ease. Just slide off the magnetic phone wallet and place your device on a wireless charging stand. It's that simple! Plus, your cards remain shielded from the magnets while snugly tucked inside the phone case wallet, ensuring their safety.
The PopSockets phone wallet isn't just smart; it's versatile too! It's compatible with PopSockets mounts and cases for MagSafe, as well as wireless chargers and non-PopSockets cases that work with MagSafe.
Buy PopSockets Minimalist Slim Phone Wallet for $34.99 here.
7. TWZKG Magnetic Card Wallet Holder with MagSafe
Next on our list of the best iPhone 15 Pro Max MagSafe wallets is TWZKG Magnetic Card Wallet Holder. It is not just an accessory; it's a whole new way to level up your iPhone experience. This nifty gadget is all about convenience, from easy attachment to supercharged wireless charging. And guess what? It pairs up perfectly with your MagSafe Case.
The powerful magnets tucked inside work their magnetic charm and effortlessly snap your wallet onto the back of your iPhone. And hey, here's a fun twist – you can even stack it on top of a clear or silicone case with MagSafe, creating a look that's as unique as you are. Worried about your credit cards? Don't be. The leather wallet has got you covered, ensuring they stay safe and sound.
Speaking of materials, the MagSafe wallet card holder is crafted from environmentally friendly PU leather. It's not just eco-friendly; it's built to last. The exquisite craftsmanship means it won't easily deform or pop open on you.
Buy TWZKG Magnetic Card Wallet Holder with MagSafe for $12.97 here.
8. MOFT MagSafe Wallet Stand
Imagine having a wallet for your phone that's not just slim, but also incredibly versatile. It's more than just a wallet; it's a game-changer for your phone experience. With its stand and magnetic properties, it gives you the freedom to enjoy your phone like never before.
The foldable design makes using it a breeze. Just snap it on, stand it up, and fold it back into place effortlessly. It's so sleek, measuring just 5mm (0.2 inches) in thickness, thinner than most wallets, yet it can hold up to three cards.
But that's not all. This wallet offers you three fantastic viewing modes: Portrait, Landscape, and the innovative Floating mode. Whether you're casually browsing the web in portrait, enjoying a movie in landscape, or having a video call in floating mode, you can tailor your phone experience to your liking. It's all about making your life easier and more enjoyable.
Buy MOFT MagSafe Wallet Stand for $29.99 here.
9. WALLFID Magsafe Wallet Leather
If you've got an iPhone 15 series, you're in luck because this minimalistic MagSafe wallet is a perfect match for it. This nifty wallet comes with some strong built-in magnets, making it a breeze to attach it securely to the back of your phone.
The inner side of this wallet is lined with high-end cloth, giving it a touch of luxury. The surface of the leather is designed to be super comfy to hold, so you'll enjoy using it every day. Plus, it's not just about looks and feel; this wallet takes security seriously. It's equipped with RFID shielding, ensuring that your cards stay safe from unwanted scans.
And speaking of cards, you can stash up to three of them in this handy wallet. It's not just practical but stylish too!
Buy WALLFID Magsafe Wallet Leather for $15.99 here.
To Conclude
In the world of ever-advancing technology, one thing's for sure: our iPhones just keep getting smarter and sleeker. And when it comes to accessorizing your iPhone 15 and iPhone 15 Pro, you'd be remiss not to indulge in the wonders of magnetic wallets for iPhone 15.
These nifty companions not only keep your essentials handy but also add a dash of style to your daily grind. So, whether you're a minimalist or a fashion-forward tech enthusiast, the world of iPhone 15 Magnetic Wallets is your oyster. It's time to bid farewell to the days of fumbling through pockets for cards and cash.
Grab yourself a magnetic wallet, and let the magic (and magnets) do the talking – your iPhone 15 deserves nothing but the best!