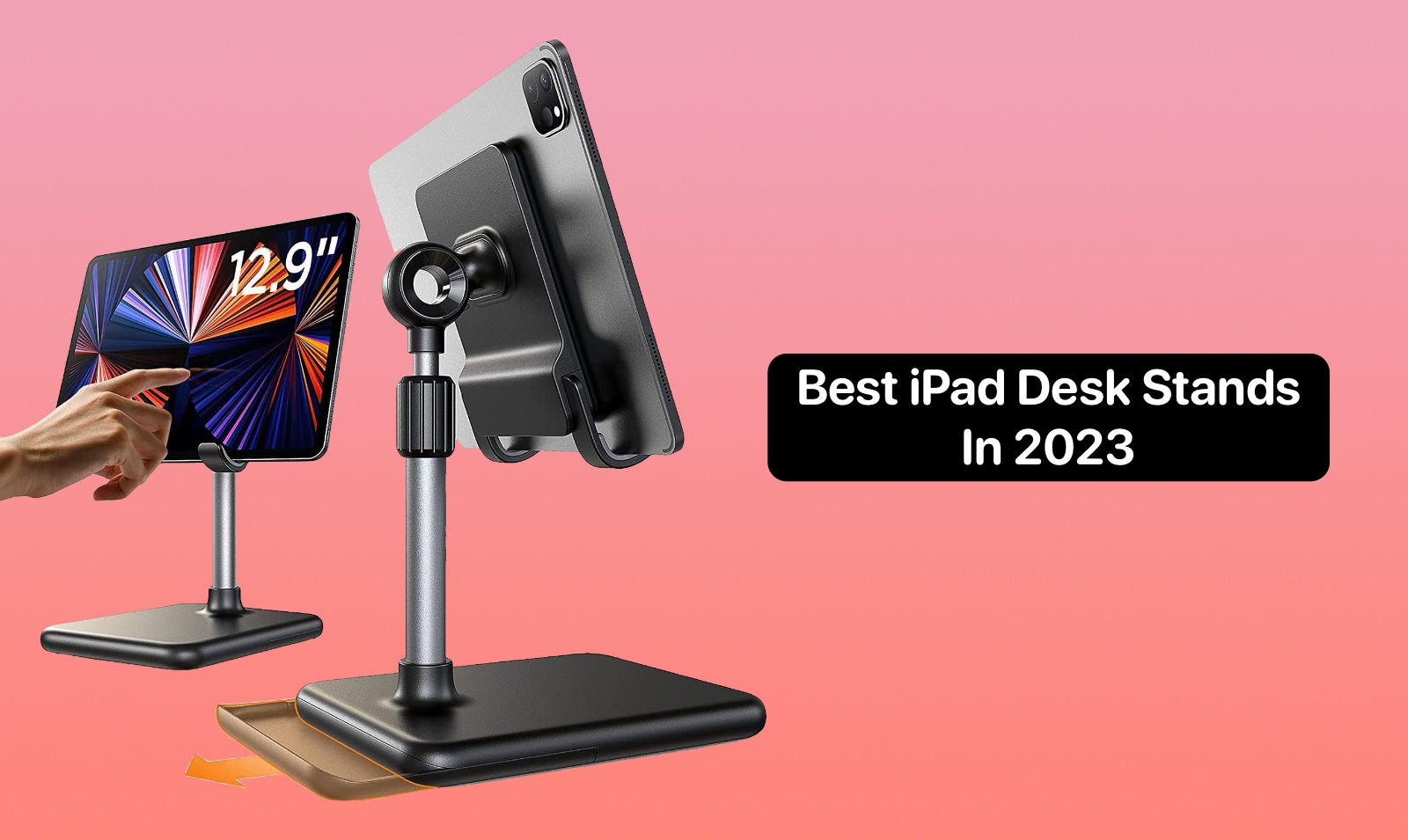 9 Best iPad Stands for Desk in 2023
If you're like us and can't get enough of your trusty iPad, you know that a dependable stand can be a game-changer for productivity and entertainment. Whether you're conquering your work tasks like a pro, binge-watching your favorite shows, or simply video chatting with pals, having the best iPad stand in 2023 can turn your setup from "meh" to mesmerizing.
So, get ready to say goodbye to that neck strain and hello to ergonomic bliss as we dive into the coolest, most convenient, and downright drool-worthy stands that are rocking the tech world this year. Your iPad experience is about to get a serious upgrade!
Best iPad Stands for Desk
Whether you're conquering deadlines, sketching your artistic visions, or simply catching up on the latest cat videos, having a reliable stand for your iPad can make all the difference. In this ever-evolving era of innovation, we've scoured the market to bring you the best desk stands for iPad.
1. UGREEN Tablet Stand Holder for Desk
Crafted from a robust aluminum alloy, the foundation and dual support rods of this iPad Pro desk stand possess exceptional strength, effortlessly accommodating your phone or tablet. Its ingeniously engineered ventilation system ensures optimal airflow, effectively thwarting any risk of overheating.
Tailor the angles to your precise preference, granting you the utmost comfort for activities ranging from meetings and movie-watching to immersive gaming. Effortlessly integrating into various settings, this iPad stand finds its place on kitchen countertops, office desks, living room tables, classroom podiums, and even bedside surfaces.
Enhanced with silicone-clad padding, your tablet remains safeguarded from unsightly scratches and precarious slips. Including rubberized feet beneath the base ensures unwavering stability for your 12.9-inch iPad Pro, guaranteeing steadfast performance during use.
Buy UGREEN Tablet Stand Holder for Desk for $18.60 here.
2. LISEN Tablet Stand Holder
Two impeccably engineered hinged locking mechanisms facilitate the exceptional versatility of this iPad holder for computer table. These precision-crafted hinges, fashioned from robust POM and stainless steel, provide the foundation for seamless adjustments across a wide spectrum of angles and heights, ranging from 8 to 9.5 inches. Rigorous testing has demonstrated the resilience of these hinge structures, revealing their capacity to endure over 30,000 cycles of bending and stretching without any compromise in integrity. As a result, this stand offers steadfast adjustability, affording you an optimal visual angle devoid of any concerns regarding slippage.
The support panel of this iPad stand has undergone substantial refinement as well. Its surface area has been thoughtfully expanded, leading to a substantial 65% increase in contact area with the device. This strategic enhancement, coupled with extensive coverage of anti-slip rubber, imbues the stand with the ability to securely cradle your device while affording comprehensive protection against tipping and potential abrasions. The thoughtful inclusion of stretchable hooks on the bottom support further accentuates the adaptability and stability of the iPad holder.
Buy LISEN Tablet Stand Holder for $18.99 here.
3. Lamicall Tablet Stand
The adjustable tablet holder effortlessly transitions between vertical and horizontal orientations, adapting to your preferred viewing angle. The stand's hook width measures 18mm, ensuring compatibility with tablets or tablets within cases, as long as they don't exceed 18mm (0.71 inches) in thickness.
Enhanced with rubber pads and feet, the tablet dock safeguards your device from daily abrasions and prevents slipping, preserving its pristine condition.
Designed to elevate your experience, this stand is perfect for various activities such as gaming, video playback, photo browsing, reading, typing, and video recording. Count on Lamicall to deliver exceptional service and support throughout your journey.
Buy Lamicall Tablet Stand for $15.83 here.
4. OMOTON Adjustable Tablet Stand for Desk
Presenting a tablet holder distinguished by its innovative hollow design, which promotes enhanced airflow, effectively aiding in the cooling of devices. The extended arms of the tablet stand have been thoughtfully designed to accommodate even thicker cases, ensuring a secure and steady grip for your device.
With an impressive range of adjustability, this tablet stand boasts a maximum rotation angle of 180 degrees, offering an array of optimal viewing angles tailored to various activities. The stand guarantees an ideal perspective, whether you're engaging in tablet-based writing, enjoying movies, gaming sessions, or following recipes.
Crafted from a premium and reinforced aluminum alloy, the iPad stand exudes durability and sturdiness, effectively safeguarding tablets against any potential wobbling or accidental falls. Furthermore, the stand's weighted base lends unwavering stability on any surface.
Buy OMOTON Adjustable Tablet Stand for Desk for $16.99 here.
5. Anozer Tablet Stand
Enhanced with a larger and more robust aluminum alloy body and four rubber pads on its underside, this portable monitor stand offers heightened stability for your devices, effectively preventing any wobbling or potential tipping. The broader 0.78-inch hook, featuring anti-slip padding, ensures your device remains securely in place, accommodating both portrait and landscape orientations without compromise—even accommodating thicker cases.
The desk tablet stand boasts a fully foldable design, enabling effortless storage, making it pocket-friendly or easily storable in a bag. It occupies minimal space on any desk, counter, or kitchen surface, delivering a compact and portable solution for your travel needs.
Featuring two durable rotating shafts, our desk tablet holder facilitates diverse viewing angles while remaining steadfast and immune to collapse. This iPad stand harmoniously aligns with the optimal eye level, promoting a comfortable posture during Zoom meetings, FaceTime calls, live streaming, TV show or movie viewing, reading, digital learning, and culinary endeavors like following recipes in the kitchen.
Buy Anozer Tablet Stand for $15.99 here.
6. Anozer Tablet Stand Foldable & Adjustable
Designed with utmost versatility, this adjustable tablet stand assumes the role of an additional display, seamlessly integrating an external or portable monitor to augment your laptop experience. Whether for professional tasks or leisure pursuits, this stand transforms your workspace into a dynamic and multi-faceted hub.
This travel monitor stand emerges as an impeccable companion on journeys near and far. Its collapsible design facilitates seamless transformation into a compact, pocket-sized form – an embodiment of convenience for storage and an unobtrusive travel companion during business ventures or leisure trips. Elevating your iPad utilization, this stand adds an element of liberation during FaceTime calls, video conferences, YouTube explorations, web browsing, and immersive reading endeavors.
Functionality expands further with the tablet desk stand's height extension, offering an adjustable range from 3.16 to 6.26 inches, with the stand reaching a maximum height of 8.18 inches. Meanwhile, the tiltable clip empowers you to finetune the viewing angle from 90° to 135°, adapting effortlessly to your preferred ergonomic arrangement. As you indulge in extended viewing sessions, the portable monitor stand proactively contributes to your well-being by minimizing strain on your back and neck.
Buy Anozer Tablet Stand Foldable & Adjustable for $15.99 here.
7. ALASHI Tablet Stand for Desk
Constructed from robust metal, this heavy-duty Desk stand for iPad Air boasts a reinforced base that guarantees secure tablet placement. Say goodbye to worries about instability, even when accommodating larger-sized tablets. The addition of rubberized coverings ensures your devices remain free from unsightly scratches.
Enhanced with upgraded solid shafts, this stand offers impeccable height and angle adjustability, accommodating both portrait and landscape orientations to suit your every viewing preference. Its compact, foldable design renders it highly portable, making it an ideal companion for your office, school, or kitchen endeavors.
Elevating your portable monitor by approximately 2 inches, this stand provides a welcome respite for your eyes, neck, and shoulders. Its ingeniously designed hollow structure facilitates seamless cable management, enabling efficient multitasking, whether work, gaming, video streaming, virtual meetings, or simultaneous charging.
Buy ALASHI Tablet Stand for Desk for $13.99 here.
8. Lucrave Tablet Stand Holder for Desk
Designed for versatility, the tablet holder offers both vertical and horizontal viewing options, allowing you to fine-tune the optimal angle for various activities such as jotting down notes, indulging in cinematic experiences, engaging in gaming sessions, perusing recipes, and more.
An innovative hollow pattern in the design promotes increased airflow around your devices, contributing to their thermal management. Furthermore, gentle silicone pads strategically positioned at the rear safeguard your devices, complemented by hooks to prevent scratches. The addition of rubberized pads on the underside effectively thwarts any potential sliding.
Our unwavering commitment to stability is evident in the stand's design. Unlike its diminutive counterparts, this medium-sized stand offers remarkable steadiness, promising enduring performance over time.
Buy Lucrave Tablet Stand Holder for Desk for $19.99 here.
9. JETech Tablet Stand
This tablet holder offers a seamless 360-degree swivel capability facilitated by its rotating base, adjustable angles, and height settings. It accommodates vertical and horizontal tablet orientations, ensuring an optimal and comfortable experience for viewing and typing tasks.
Crafted from high-quality aluminum alloy, this holder features silicone padding that securely cradles your tablet, safeguarding it against scratches and preventing unintended slipping. Its robust design guarantees stability and reliability.
Furthermore, the stand's compact foldable design allows for effortless portability, easily fitting into your backpack. Importantly, it doesn't hinder the charging process, ensuring your device remains powered up.
Buy JETech Tablet Stand for $15.99 here.
Conclusion
And there you have it, folks – the top contenders for the best iPad desk stands to grace your desk in 2023!
From sleek minimalism to techy versatility, we've covered the gamut to help you find the perfect perch for your trusty tablet. So go ahead, take your pick, set up shop, and let your iPad stand tall while you conquer tasks, create masterpieces, or indulge in your guilty pleasures.