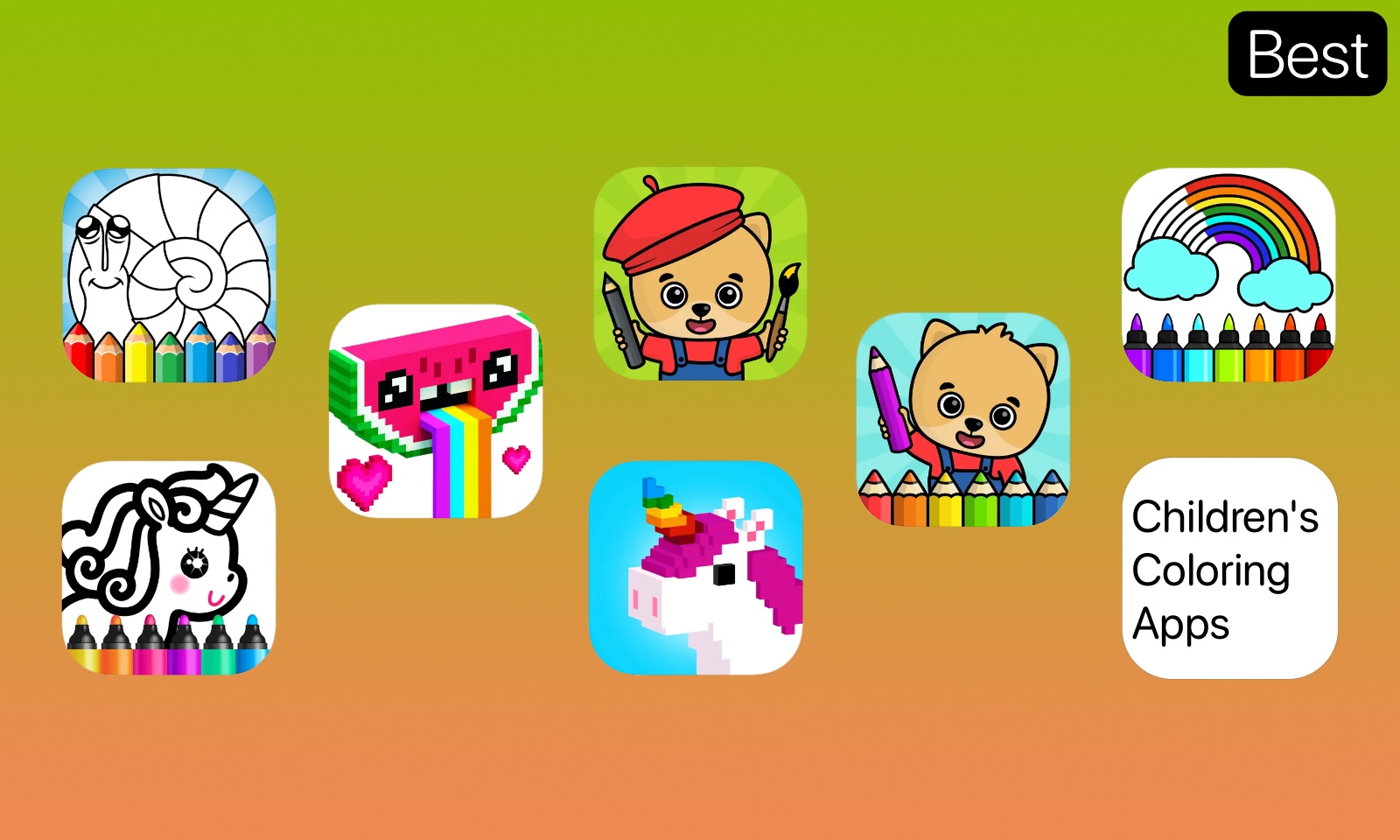 7 Best Children's Coloring Apps for iPad and iPhone in 2023
Setting up and cleaning up arts and crafts is extremely time-consuming, even though it is an excellent way to encourage your child's creativity. Thankfully for parents, technology has moved beyond the mess with these color apps for kids on iPhone that help children play and learn in a fun, safe, and clean environment!
Check out these best children's coloring apps for iPad or iPhone to inspire your mini Picasso without encouraging the mess.
Children's Coloring Apps for iPhone and iPad
There are plenty of iPhone and iPad apps for kids, but finding ones that they'll really enjoy isn't as easy as it seems. Even though free doesn't always mean better, the below-mentioned coloring apps for kids deserve a place at the top regarding features, usability, and fun.
1. Coloring and Drawing for Kids
Coloring games for kids are a great way to help your child learn more about colors. But don't forget that sometimes the colors they choose might not be what you expected! Still, you must let your child develop new talents and become a real artist. Various coloring activities in the coloring book for kids are geared toward the youngest and highlight different objects that surround children every day. Aside from entertaining your child with fascinating sounds and funny animations, these games also include coloring tools. Here's what you can expect:
144 coloring pages in 9 topic packs;
An easy-to-color book for children;
Customizable coloring tools;
creativity Enhancement.
The app offers games for girls and boys of preschool age and toddlers of 2 to 4 years old. In a nutshell, these educational games for girls and boys feature fine motor skills, logic development, and other skills developed with the participation of experts in child education.
Install Colouring and drawing for kids from the App Store today.
2. Colouring & Drawing for Kids +
With Colouring & Drawing for Kids +! Your kid can start your artistic journey right away!
This digital coloring book includes hundreds of beautiful coloring pages and exciting games to captivate your child's imagination, foster their creativity, and inspire their learning.
There are over 850 exciting games, such as Magic Coloring, Glitter Coloring, Pattern Coloring, Pencil Coloring, Surprise Coloring, Monster Coloring, and many more. Coloring, doodling, and playing will be a blast for the kids! It's the right way for your kid to explore the colorful world of animals, vehicles, fruits, vegetables, unicorns, and much more!
Install Colouring & Drawing for Kids + from the App Store today.
3. Kids Coloring Book
It is not only fun to play kid games, but they also help develop their intelligence and help them learn. This is especially true if the game is a coloring book. We also recommend Kids Coloring Book, a coloring book for children and babies aged two and older. The app not only enhances fine motor skills and wrists, which affect the intellect but also allows your child to learn the shapes of various objects by drawing and coloring. There are 130+ pictures in the kids' coloring book.
The coloring pages are divided into eight categories:
Pets
Wild animals
Transport (service cars, vehicles, planes)
Dinosaurs
Undersea
People(professions, princesses)
Creatures (Halloween, aliens, robots)
Food
With various drawing tools, including a marker, pencil, magic brush, and others, your child will discover his or her artistic potential. The texture painting process will make your kid's painting process truly exciting. The tool makes drawing clouds, stars, grass, and other elements easy for your child.
Install the Kids' coloring book from the App Store today.
4. Kids Drawing Games for Girls 4
With this app, your little princess will have fun tracing the lines to draw the cute characters and animals she loves! Just ensure you don't let her get her hands on your credit card – she'll be drawing real animals before you know it!
Fret not, though. The drawn character comes to life in the app by tracing the last line, dancing, jumping, or setting off fireworks as if by magic. It features bright colors and wonderful animations that your child will love!
Drawing for Girls was developed in accordance with modern educational methods. This app is the most effective way to get your child interested in drawing magical pictures because it allows children to learn to sketch step by step. Additionally, they develop imagination, creativity, and writing skills.
This app does not require an internet connection. Thus, your child can occupy himself or herself with drawings even on trips, in line, or if you simply need a moment to finish some other tasks. Thanks to the easy-to-use menu, your little artist can play independently without any assistance from an adult.
Install Kids Drawing Games for Girls 4 from the App Store today.
5. Voxly: Color by Number
Voxly is one of the coolest 3D iPad kids' coloring apps!
This simple, relaxing coloring book lets you forget about the stresses of everyday life. You can paint, draw, and have a colorful blast, whether a child or an adult. Follow the numbers to see the epic final result: pixel by pixel, color by color.
You can choose from a wide range of 3D models in the app:
Sweet pets
Lovely princesses
Cute unicorns
Funny items
Amazing dragons
Wonderful robots
So what are you waiting for? Make your family and friends smile with colorful voxels by sharing them on social media platforms like Facebook, Instagram, Twitter, and Messenger.
Install Voxly: Color By Number from the App Store today.
6. UNICORN 3D: Color by Number
Have you ever wondered how two-dimensional coloring books can be turned into three-dimensional ones? What an exciting prospect! This Unicorn 3D coloring by numbers app is a perfect stress reliever and a fun way to spend your free time together!
With this app designed entirely from voxels, you can take your creativity to the next level.
You can choose from a wide range of 3D coloring pages & simply fill in the voxels with colors by following the numbers. You will get an animated video!
App features:
AR coloring mode!
Easy-to-use interface
Tons of 3D animated voxel figures!
Relaxation – Reduces stress.
So, why don't you treat yourself to the best coloring experience you've ever had? It is safe to proceed with the app installation without a doubt.
Install UNICORN 3D: Color by Number from the App Store today.
7. Baby coloring book for kids 2+
Designed to help your child spend time on an electronic device effectively, this game is creative and educational. Bring out the artist in your child because it's way better than letting them draw on the walls! In addition to coloring activities designed for the youngest audience, the app includes drawing lessons designed to strengthen fine motor skills. You can also find pictures on different topics in the app and fascinating sounds and adorable characters to entertain your child.
The app is designed for children of preschool age, as well as boys and girls between the ages of 2 and 4. All in all, with the participation of experts in the field of children's education, all the activities were developed to promote fine motor skills, creative thinking, and logic.
Install Baby coloring book for kids 2+ from the App Store today.
To Conclude…
So, this was our list of the best coloring apps for kids!
Taking part in arts and crafts is wonderful for children because they can explore their creativity anytime, anywhere. They can instantly choose from every color and design imaginable by opening their parents' iPad or iPhones.
Even though so many exciting apps and devices are available today, too much screen time can quickly become a problem. It's not just iPads that keep kids entertained. You can also keep them occupied by trying kid-friendly arts and crafts.
So, which app would you install? Let us know in the comments section.