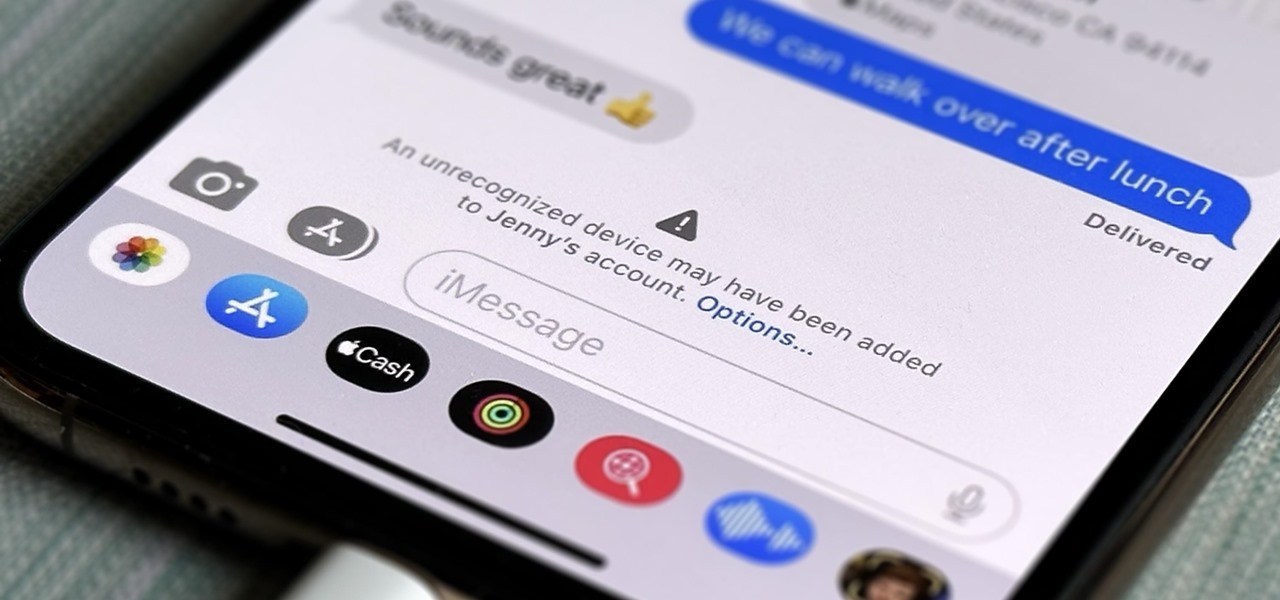 6 New Features iOS 16.6 Is Bringing to Your iPhone in Apple's Next Software Update
Apple is releasing the first iOS 17 beta to developers soon, but that doesn't mean the company's done updating iOS 16. There's already a new iOS 16.6 software update in the works, and it might come with an important feature for your iPhone that's been highly anticipated since it was announced last year.
1. Contact Key Verification for iMessage
The highly anticipated feature, Contact Key Verification for iMessage, was announced by Apple on Dec. 7, 2022, alongside Security Keys for Apple ID and Advanced Data Protection for iCloud, and iOS 16.6's beta code holds the first clues to Contact Key Verification's future arrival. In fact, these Contact Key Verification hints are the only noticeable additions on iOS 16.6 so far.On iOS 16.6 beta 1, if you search the Settings app for the feature, it'll show up in the results. However, tapping it opens the Apple ID settings without a Contact Key Verification option visible. Apple also baked a URL scheme for Contact Key Verification (seen below) into the first beta. As with the search result, it also just takes you to the Apple ID settings since the submenu doesn't exist yet.These clues to Contact Key Verification's materialization were removed by Apple on iOS 16.6 beta 2. A search in Settings no longer shows it, and the bundle that listed the URL scheme was removed from the preference manifests.

Contact Key Verification is similar to Signal's safety number system in that it's meant to assure you that you're talking with who you think you're talking with. Like Signal's safety number, which provides a shareable numerical fingerprint that identifies you as you, iMessage Contact Key Verification assigns a Contact Verification Code to each contact that can be compared in person, over FaceTime or another video call service, via a secure call, and so on.
When you verify a contact's Contact Verification Code, you'll know you're iMessaging them and not an eavesdropper, protecting you from man-in-the-middle attacks. But that's not the only thing iMessage Contact Key Verification can do.
According to Apple, iMessage Contact Key Verification, like iOS 16's Lockdown Mode, is built for users "who face extraordinary digital threats," such as politicians, journalists, military personnel, investors, human rights defenders, dissidents, lawyers, activists, government workers, and other potential targets of state-sponsored cyberattacks.
For extra protection, "conversations between users who have enabled iMessage Contact Key Verification receive automatic alerts if an exceptionally advanced adversary, such as a state-sponsored attacker, were ever to succeed breaching cloud servers and inserting their own device to eavesdrop on these encrypted communications."
2. New Security Prompt for iCloud for Windows
If you use iCloud for Windows, you may notice a slight change when logging in. Whenever your iPhone and Windows computer aren't on the same Wi-Fi network, your iPhone will show a new prompt when trying to sign in to iCloud for Windows with a verification code.
Switch to Different Wi-Fi Network

To sign in to iCloud for Windows with a verification code, your iPhone and Windows computer need to be on the same network.

[Go to Wi-Fi Settings] | [Cancel]
3. Icons for More Beats Studio Buds + Colors
Apple added images of the black and gold Beats Studio Buds + on iOS 16.4, and iOS 16.6 beta 2 brings us pictures of the other two colors: ivory and transparent. So if you have those models, you'll now see the correct icons viewable on your iPhone. Beats Studio Buds + were released earlier this month.
4. Easier Sharing of Sports Games/Scores in News
In the News app on iOS 16.6, whenever you long-press or tap the ellipsis (•••) for a sports score or scheduled game, you'll see a new option to "Share Game." Previously, you would have to go to the game, tap the ellipsis up top, and choose "Share Game" from there, so the process is quicker now.
You may also notice below that iOS 16.5 previews the game page while iOS 16.6 doesn't. That is not a change; it's like that on older iOS 16 versions, but the view may depend on your iPhone model and layout settings.
5. New Home Upgrade Recommendation
When adding people to your home in the Home app, you may get a prompt asking you to upgrade your home to the latest version, which has a new underlying architecture as of iOS 16.4. Upgrading is optional for now.
Update recommended

Home has a new underlying architecture that will improve the performance of your home. Upgrade this home and ask members of the home to upgrade to the latest version.
6. New Warning for Matter Accessories
When trying to pair new Matter accessories, iOS 16.6 may issue a warning prompt if the app you're using is trying to pair the accessory in an unsecured way. You can manage unauthorized access in Settings –> General –> VPN & Device Management, which implies this warning will only come up for apps installed via mobile device management (MDM).
Warning

This app is using an unsecured way to pair a Matter accessory. Please proceed with caution as your current device setting allows unauthorized access to Matter accessories. You can manage this setting under Device Management in the Settings app.
Anything Else?
Besides the above six things, there's little going on with iOS 16.6. I've seen a few minor tweaks that aren't worth mentioning and a couple of new items whose purpose is unknown, so you can expect mostly bug fixes and security patches when iOS 16.6 hits in June or July.
This all applies to iPadOS 16.6 as well, which will be released at the same time. If you want to try the new iOS and iPadOS software before its stable release, you can join the iOS 16 or iPadOS 16 pubic beta.
Keep Your Connection Secure Without a Monthly Bill. Get a lifetime subscription to VPN Unlimited for all your devices with a one-time purchase from the new Gadget Hacks Shop, and watch Hulu or Netflix without regional restrictions, increase security when browsing on public networks, and more!