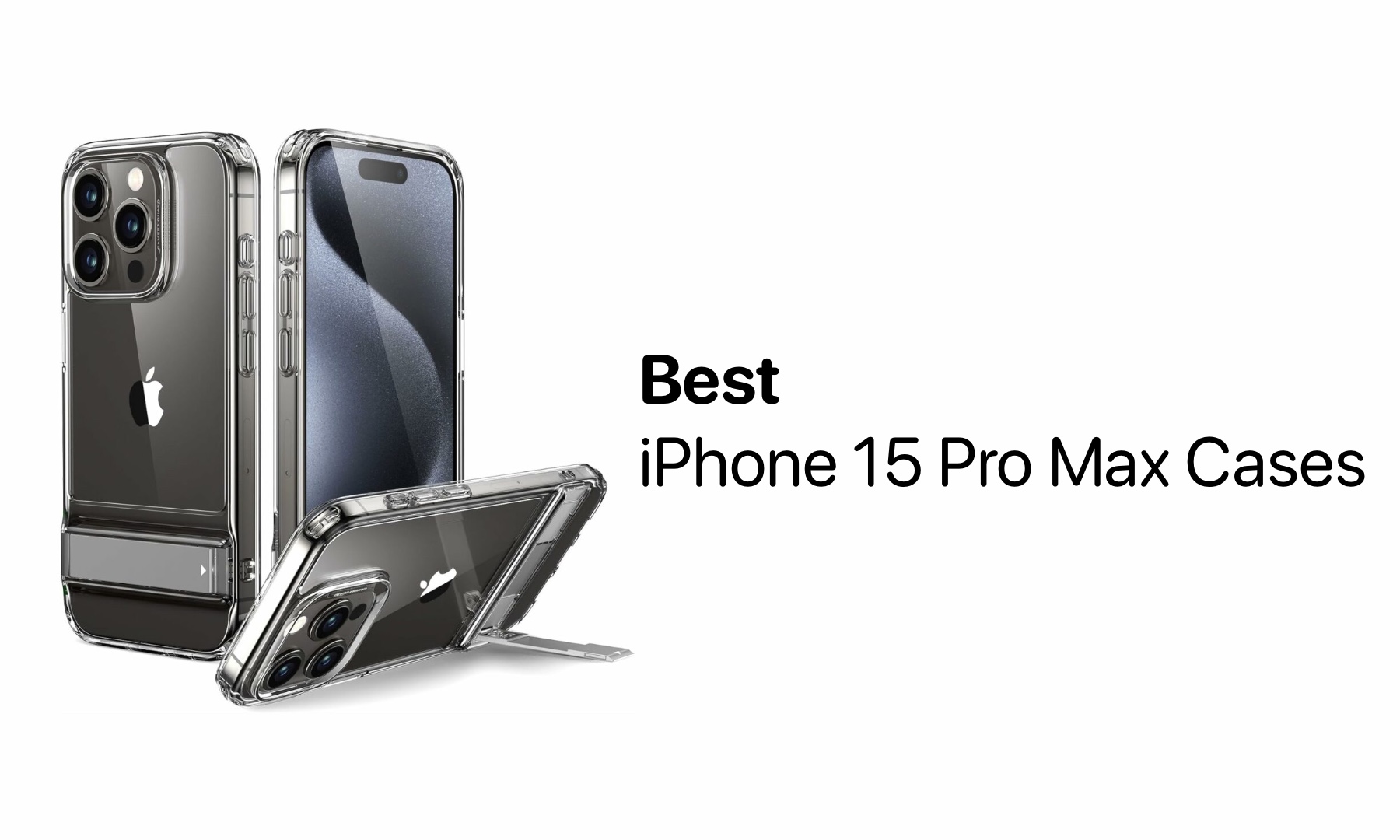 10 Best iPhone 15 Pro Max Cases To Buy Right Now
In this post, we have featured 10 of the best iPhone 15 Pro Max cases that you can buy in 2023. These amazing and durable cases provide an all-around protection to your iPhone and protect it from bumps and scratches.
Ladies and gentlemen, brace yourselves for the phone that's so 'Max' it might just break the space-time continuum – the iPhone 15 Pro Max! It's bigger, bolder, and shinier than ever, making us wonder if it's secretly moonlighting as a small tablet. But with great size comes great responsibility, and in this case, that responsibility is to keep your precious investment safe and sound.
So, if you've just splurged on this pocket-busting wonder, fear not! We've scoured the digital wilderness to bring you the best cases for iPhone 15 Pro Max to buy right now. From stylish armor to cases with more personality than your favorite stand-up comedian, we've got you covered (literally and figuratively).
Let's dive in!
1. Spigen Ultra Hybrid MagFit
Check out this awesome phone case designed for the iPhone 15 Pro Max (2023)! It's not your ordinary case – it's specially made to work seamlessly with MagSafe.
First off, it's got a clear PC back, which not only looks sleek but also ensures your phone's design shines through. Plus, it's super compatible with MagSafe, so you can enjoy all those cool magnetic accessories.
The case has a raised lip that shields your screen and camera from accidental bumps and scratches. No need to worry about those unsightly marks! When it comes to usability, you'll love the tactile buttons. They provide solid feedback, making it a breeze to press your phone's buttons without any hassle. It's all about convenience!
And here's the cherry on top – it features Air Cushion Technology for shock absorption. So, if your phone ever takes a tumble, this case will help minimize the impact and keep your device safe.
Buy Spigen Ultra Hybrid MagFit for $20.99 here.
2. ESR Metal Kickstand Case
Experience hands-free convenience and elevate your viewing experience with this one of the best  iPhone 15 Pro Max cases with kickstand. Whether you're catching up with family on FaceTime or binge-watching your favorite shows, this case got you covered in three stable stand modes for portrait or landscape viewing.
The patented design empowers you to choose the perfect viewing angle, giving you the freedom to adjust up to 60 degrees. Plus, rest assured that the durable hinge has been lab-tested to maintain its functionality even after more than 3,000 uses. That's some serious staying power!
When it comes to protection, this case features shock-absorbing Air Guard corners, a raised screen edge, and a trusty Camera Guard. This dynamic trio ensures your iPhone 15 Pro Max is certified against drops, bumps, and scratches, so you can embrace life's adventures without worry.
Buy ESR Metal Kickstand Case for $21.99 here.
3. Mkeke for iPhone 15 Pro Max Case Ultra Clear
Crafted from high-definition polycarbonate material, this case is not only sturdy but also resistant to that unsightly yellowing effect over time. Say goodbye to the yellow haze and hello to your phone's true beauty, fully restored.
With not one, but two tempered glass screen protectors included, your iPhone 15 Max will be ready to face the world head-on. And speaking of protection, this one of the best Clear iPhone 15 Pro Max cases comes with four corner airbags and distinct 3.5 mm raised lip bezels on the back. Your camera lens is in safe hands, guard against scratches, dirt, and other potential threats.
Plus, the company has gone the extra mile with the camera bezel, ensuring it's perfectly sloped to accommodate wireless chargers and stands. So, this case boasts a premium-built finish that not only looks good but also delivers shockproof drop protection.
Buy Mkeke for iPhone 15 Pro Max Case Ultra Clear for $18.99 here.
4. Temdan Designed for iPhone 15 Pro Max Case
Crafted with top-notch Germany Bayer's ultra-clear TPU material and boasting a Nano antioxidant layer, this case is like a shield against the elements. It's a UV-blocking champ, keeping 99.9% of those pesky ultraviolet rays at bay.
And when it comes to safeguarding your precious screen and camera, raised bezels are there to save the day, protecting against those nasty drops and scratches. It also has some tiny details like 2.5mm camera lips, 1.2mm screen bezels, and 0.5mm raised corner lips on the back for some extra comprehensive protection. Plus, this case plays well with others – it's compatible with all screen and camera protectors.
But what good is protection if it makes your phone feel like a brick? Fear not, this one of the durable cases for iPhone 15 Pro Max is sleek and slim, measuring just 0.04 inches. Plus, it's a pro at resisting stains, fingerprints, and even sweat – say goodbye to those unsightly marks! The best part? It never turns that dreaded shade of yellow as time goes by, so your phone stays crystal clear.
Buy Temdan Designed for iPhone 15 Pro Max Case for $9.99 here.
5. Humixx Magnetic for iPhone 15 Pro Max Case
Introducing the [Oh! Mag-Guard] series from Humixx, the result of 7 years of R&D! This iPhone 15 Pro Max case is a game-changer with its Halbach Array design, delivering an impressive 18N magnetic force, leaving ordinary magnets (7N) in the dust. It's 38% stronger than other iPhone 15 Pro Max cases, guaranteeing a secure connection with all your wireless charging accessories – think wireless chargers, wallets, battery packs, and car mounts. No matter how much you twist and turn it, this case stays put.
For those who demand durability, this iPhone 15 Pro Max Shockproof case with 4 AirArmor corners has aced over 8,000 drop tests and meets military standards. Those 4 AirArmor corners feature internal and external cushions, sporting patented QuadGuard technology, which disperses 99% of impact force. With a 1.5mm screen edge and 2.5mm lens bezel, this case fights wear and tear, offering top-notch protection against drops and scrapes.
The hybrid technology blends the PC matte back and TPU edge seamlessly, giving your iPhone 15 Pro Max an aesthetic edge and a comfortable grip. Plus, with an upgraded Nano Oleophobic Coating, your phone case stays free from fingerprints, stains, and scratches. The soft TPU bumper ensures a dust-free experience.
Buy Humixx Magnetic for iPhone 15 Pro Max Case for $29.99 here.
6. Spigen Tough Armor MagFit
Say hello to the ultimate phone case that's both stylish and functional! This Magnet-Integrated Clear PC Back Case is here to make your smartphone experience even more magical. It is a match made in heaven for your MagSafe accessories. Whether it's attaching a charger, wallet, or any other MagSafe goodness, this case has got your back – literally!
Worried about those accidental drops? No more! This case features a raised lip to shield your precious screen and camera, so you can flaunt your phone with confidence.
Spigen knows how important it is to have buttons that feel just right. That's why they have designed this case with tactile buttons that provide solid feedback and make pressing them a breeze. Gaming, texting, or scrolling – you're in control!
Life happens, and sometimes your phone takes a tumble. This case comes equipped with Air Cushion Technology, which means it can handle shocks like a champ. Your phone will thank you for the extra protection!
Buy Spigen Tough Armor MagFit for $25.99 here.
7. SUPCASE Unicorn Beetle Mag Case 
This iPhone Pro Max case is like a superhero for your precious device! With its tough PC back and shock-absorbent TPU bumper, it's here to save the day by providing top-notch protection.
The back cover is as clear as day, allowing your iPhone's beauty to shine through, and it's so scratch-resistant that even a mischievous cat with sharp claws would struggle to leave a mark.
This one of the best iPhone Pro Max cases with MagSafe comes with elevated bezels, kind of like the bodyguards of your touchscreen and camera lens. They ensure that your iPhone stays scratch-free when it's placed face down – no need to worry about accidental scratches ruining your Instagram-worthy photos!
You won't have to perform any finger gymnastics to use your smartphone. The case's precise cutouts give you easy access to all your phone's features, functions, and ports. It's like a perfectly tailored suit for your iPhone, ensuring you can use it without any hassle.
Buy SUPCASE Unicorn Beetle Mag Case for $21.99 here.
8. Smartish iPhone 15 Pro Max Slim Case
Discover the Gripmunk iPhone case by Smartish, designed to make your life easier in the most whimsical way possible! This case is your gravity-defying partner in crime, effortlessly striking the perfect balance between good grip and style.
Crafted with a feather-light yet super durable design, the Gripmunk comes equipped with corner air pockets that act like airbags for your phone. So, not only does it provide top-notch protection for your slim and sleek smartphone, but it also comes with its fair share of pun-tastic humor (we can't resist a good corny joke).
But wait, there's more! With its carefully bezeled screen and camera bump, the Gripmunk gives your phone a little extra lift, ensuring your precious glass stays away from those pesky rough surfaces.
Buy Smartish iPhone 15 Pro Max Slim Case for $19.99 here.
9. OTOFLY Compatible with iPhone 15 Pro Max Case
This iPhone 15 Pro Max (ONLY) case – is like a style chameleon that's here to match your daily vibes with a whopping 18 color choices!
Crafted from premium liquid silicone and coated with a magical nanolayer, it offers a silky-smooth touch and super anti-smudge powers. Plus, it's your phone's trusty sidekick regarding shockproof protection. The case has got your precious screen and camera covered too, with 1.3mm raised lips that say, "No way!" to drops, cracks, and annoying surface scratches.
Inside, it's all cozy with a soft microfiber lining that's like a gentle hug for your phone – no scratches allowed! But here's the cherry on top – this case keeps things sleek and slim, letting your iPhone's original design shine through.
Buy OTOFLY Compatible with iPhone 15 Pro Max Case for $12.99 here.
10. Lamicall Magnetic Case for iPhone 15 Pro Max
Lamicall Magnetic Case for iPhone 15 Pro Max has been designed to take your phone experience to the next level with a touch of elegance and practicality!
Thanks to its 38 powerful N52 super magnets and an upgraded magnetic circle array, this case guarantees a secure connection for safe and lightning-fast wireless charging. It effortlessly pairs with all your MagSafe accessories like the MagSafe charger, ring, wallet, and car mount, ensuring you're always connected.
But that's not all! This magnetic Anti-Slip iPhone 15 Pro Max case boasts an exclusive diamond-textured edge that not only adds style but also makes it a breeze to grip. It feels silky smooth to the touch, enhancing your phone's grip and significantly reducing the risk of accidental slips.
Lamicall knows you don't want to compromise style for safety, and that's why this iPhone 15 Pro Max case is designed to be slim and stylish, so it fits comfortably in your hand without adding bulk. Its minimalist and translucent matte design perfectly complements your phone's original aesthetics, complete with precise cutouts and responsive buttons for an enjoyable tactile experience.
Buy Lamicall Magnetic Case for iPhone 15 Pro Max for $24.99 here.
So, choose any of the above-mentioned cases designed for iPhone 15 Pro Max and enjoy your new smartphone to the fullest with the perfect case by your side.